Did you know that there are rules and regulations around how to merge two or more EPFO accounts in India? In order to be able to merge two or more EPFO accounts, you must abide by specific guidelines. In this article, we will discuss the four steps you need to take in order for your process of merging two or more EPFO accounts in India to go smoothly
What Is an EPFO Account? – EPFO stands for Employee Provident Fund Organisation and is India's government-run social security and pension fund. EPFO accounts are used to manage retirement savings, provident fund contributions, and other benefits for employees. Read more to know on how to merge epf accounts.
What Is the Process to Merge EPF Accounts in India?
The process of merge EPF accounts in India is simple and can be done online. To merge your existing EPFO accounts, you will need to provide details such as account number, employer name, employee name, and net income earned. You will also need to provide the details of the accounts you want to merge into your existing account. After providing the required information, you will be provided with an account merge form which you will need to complete and submit to EPFO. Once the merged account has been created, you will need to update all your relevant contact information.
How to Merge Two or More EPFO Accounts in India?
If you have two or more EPFO accounts, merging them into a single account is important to receive the benefits and subsidies available to EPFO members.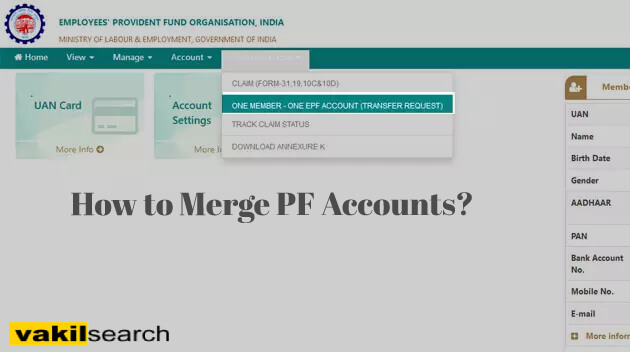 Here Are the Steps to Merge EPF Accounts:
 Go to the EPFO website and sign in. 

https://www.epfindia.gov.in/site_en/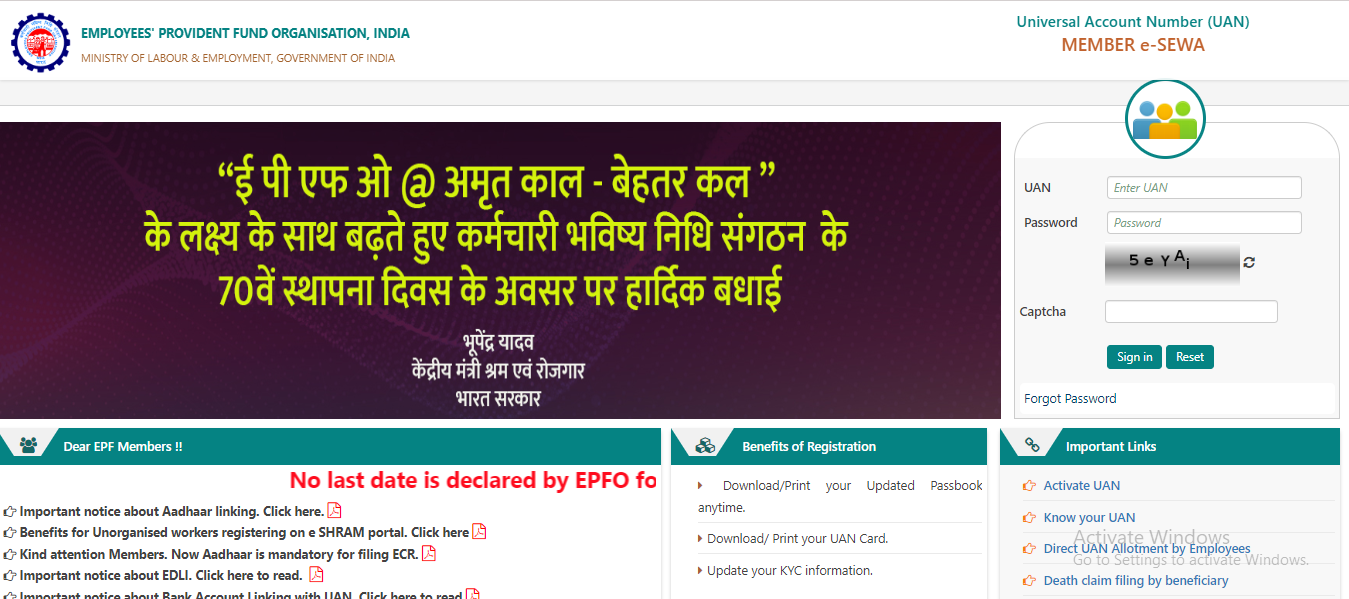 On the main page, click on My Account. 

 On the My Account page, under Accounts Details, select Merge Accounts. 

 On the Merge Accounts page, enter the details of the accounts you want to merge into your new account. 

 If you have multiple bank accounts linked with your EPFO account, choose which one you want to use as your new active bank account. 

 Click on Save and Close. 

 Your new merged EPFO account will be created and will be activated immediately.
Vakilsearch offers a retirement planning calculator which can assist you in estimating the amount of funds you'll require to secure your post-retirement life, manage your expenses, and achieve your desired lifestyle.
Why Must I Merge Two or More EPFO Accounts in India?
Migrating two or more EPFO accounts can help you consolidate your finances and improve your organization's efficiency. Here are some reasons why you might want to merge pf accounts:
– You can consolidate your pension and salary payments into one account, saving you money in the long run.

– You can make it easier to track your expenses and Income Tax Return

.

– You can improve your organization's financial transparency by consolidating all your data in one place. 
If you're thinking of merging your accounts with the Employees' Provident Fund Organisation (EPFO), here are a few things to bear. First, you must decide who should be responsible for merging the accounts – you, your spouse, or a family member. Second, it's important to remember that not all EPFO members are required to merge their accounts. If you're not required to merge, there's no need to rush into it – it can wait until later if you still want to consider doing so. Third, ensure that all of the relevant paperwork is ready before starting the process – this includes copies of all your identification documents and proof of address for each account holder. Finally, don't forget to factor in any administrative charges that may be levied for the process.
Click here to know about Provident Fund Registration Online
Benefits of Having One Account
If you have more than one EPFO account, managing them can be a hassle. You need to remember different account numbers, login credentials, etc. When you want to make a transfer or claim online, this can be a pain.
Things to Do After Merging
There are many things to do after merging your EPFO accounts in India. Below we have outlined the most important ones.
 Update your details in the online portal. This includes updating your name, Aadhaar number and bank account details. You will also need to update your EPF account number if it has changed.

 Verify your accounts. This will ensure that all your details match and there are no errors. EPFO will also ask for additional information, such as proof of income or residence status if required.

 Activate your insurance cover. This will ensure you are covered for employer pension benefits during the transition period.

 Elect to receive the full or partial pension benefit calculated according to your current pensionable status (full-time employee, part-time employee, casual worker, etc.). You can elect to receive the entire pension or a proportion of it depending on how long you have been with the same employer. The deadline to make this election is typically 6 months after the merger date but can vary depending on the case.
Learn about EPF Calculator.
Conclusion
If you are looking how to merge pf account/EPFO accounts in India, there are a few things you need to keep in mind. First, ensure that all the accounts you want to merge have been opened before starting the process. Secondly, make sure that your bank account details and EPFO account numbers match up – otherwise, the merger process will not be able to proceed. Finally, if any of your existing EPFO benefits (such as provident fund) are linked to one of your old accounts, you will need to contact EPFO and update their records before the merger can occur. For more information, contact Vakilsearch today.
Read More: