It is necessary to submit a nomination to be eligible for welfare benefits for members of the Employees' Pension Scheme (EPS) and Employees' Provident Fund (EPF). Holders of an EPFO account are allowed to do so digitally.
For members of the Employees' Pension Scheme (EPS) and Employees' Provident Fund (EPF), submitting an online nomination is a requirement in order to be eligible for welfare benefits. If an EPF member files an e-nomination, their family may be eligible for a number of advantages. These advantages include Provident Fund (PF) and Pension (EPS) benefits and the ability to settle qualifying nominee claims online in the event of a member's death. In place of physically submitting their EPS and EPF nominations, EPF account holders are permitted to do so digitally.
How Does EPF Work – epfindia.gov.in
Employee Provident Funds (EPFs) are retirement savings plans where the employer and the employee each contribute 12% of the fund's basic and dearness allowance (DA). It makes up a total of 24% of the contribution. Before retiring, you can withdraw a portion of this deposit. The total amount available for withdrawal after retirement. You will receive a UAN or universal account number when you join this programme, and you will keep it until the completion of your career. Afterwards, your UAN follows you when you change jobs.
How Does EPS Work
The Indian government also provides the EPS pension plan. It is a result of the EPF registration, meaning that not all of an employer's payment goes to the Employee Provident Fund. The Employee Pension Scheme, or EPS, receives 8.33% of this total. The remaining amount is used as the real EPF contribution.
Reasons to submit a nomination to the EPF
The following are three advantages of submitting an e-nomination using one's EPF account:
The percentage of the pay that has accumulated is subject to high-interest rates. It can be cancelled if someone passes away, retires, or resigns.

For significant costs like weddings, education, and other such events, partial withdrawals are allowed.

The nominee or dependent (spouse, kids, or parents) may withdraw the accrued funds in the event of the account holder's demise (in EPF, EPS, and ELDIS).
Purpose
To examine the balance of your provident fund (PF) account, your pension (EPS), and your employees' deposit-linked insurance (EDLI) up to Rs 7,00,000 for eligible family members, you must submit an EPFO e-nomination form. Additionally, nominees can quickly and without paper settle claims online when necessary.
eNomination Rules for EPFO
The guidelines for EPS and EPF online nomination are distinct from one another. The e-nomination guidelines for EPS and EPF are listed below:
Rules for EPF E Nomination
The EPF Scheme of 1952 allows people with a family to nominate any one or more members of their family.

If a member has a family, they may nominate another member; however, if they do, their nomination will be revoked.

The EPF Nomination Scheme also covers the EDLI Scheme.
Rules for EPS E Nomination
The member shall include the names of such spouse and such spouse's children in the prescribed form.

Only one person may be nominated by a member who is single and does not have any children. The nomination is void, though, once the applicant starts a family.
How to Digitally Add EPF Nomination?
In a recent tweet, the EPFO provided more details on the online EPF nomination submission procedure. It stated, "Follow these simple procedures to file EPF/EPS nomination online," and provided the following instructions for filing EPF nomination via the Employees Provident Fund Organisation's official website:
Step 1: Open any web browser and navigate to epfindia.gov.in or the official EPFO website. https://www.epfindia.gov.in/site_en/
Step 2: Select "Service" from the list of available options.
Step 3: You must select the option that reads "For Employees" from the new list of choices.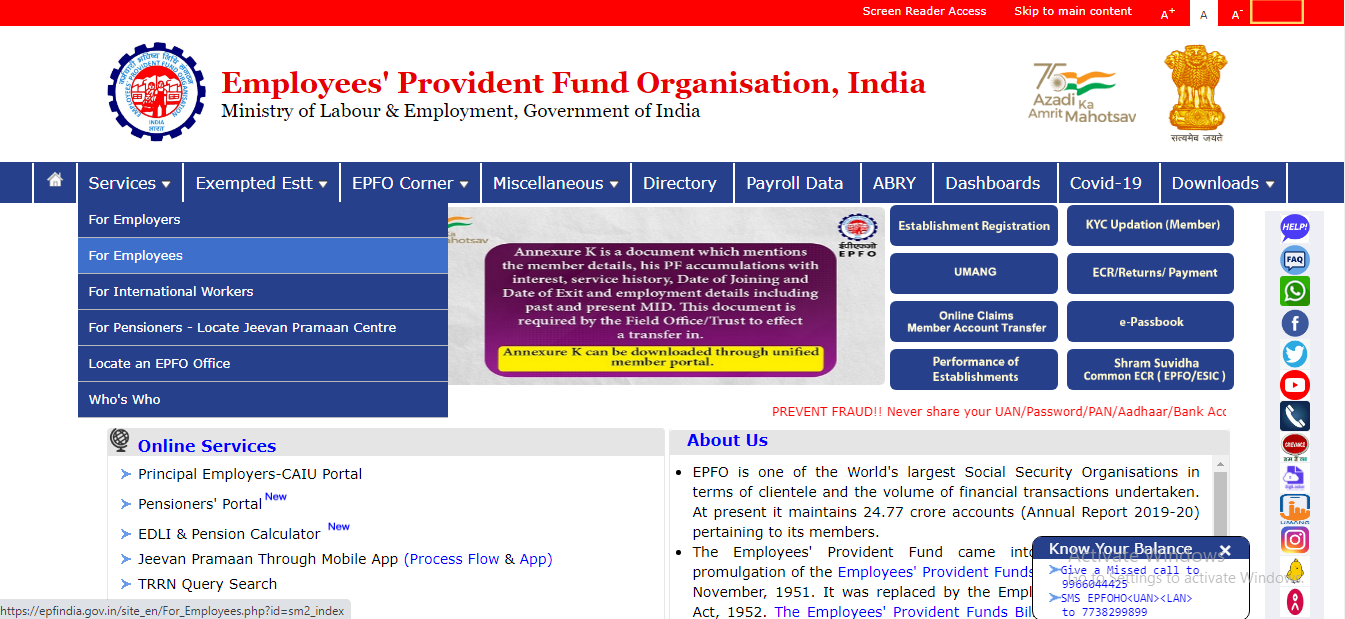 Step 4: "Member UAN/ Online Service (OCS/OTP)" should be clicked.
Step 5: Use your previously-set password and UAN to log in.
Step 6: Click on the "E-nomination" option under the "Manage Tab."
Step 7: On your screen, a tab with the words "Provide Details" will appear; select "Save."
Step 8: To amend the family declaration, select "Yes."
Step 9: You can add more than one nominee; click the button labelled "Add Family Details" and enter the necessary details, including your Aadhaar number, bank account information, address, and photo.
Step 10: After declaring the total share value, select "Nomination Details" and "Save EPF Nomination."
Step 11: To generate an OTP that would show on the mobile phone associated with your Aadhaar number, select "E-sign."
Similarly, you will be needed to enter EPS nominations.
Now select the 'Manage' tab and click the 'e-nomination' option. It will say 'Pending Nomination'.

To create a one-time password (OTP), select "e-sign" and send it to the Aadhaar-linked mobile number.

You will be prompted to input the virtual Aadhaar ID on a new webpage that appears.

You will be taken to a checkbox to confirm your agreement to use Aadhaar data for e-KYC services.

Click on "Get OTP," which will be provided to the registered mobile number following the Aadhaar database, and then enter your Aadhaar or Virtual ID once more.

Enter the OTP delivered to your registered cellphone number, check the box to confirm, and click "Submit."

The 'Nomination History' shows the status as 'Nomination Successful' once you click on the 'Manage' page and double-check that you input the EPFO e-nomination successfully.
The following prerequisites must be met to set up a nominee name:
According to the circular, only EPF account holders whose Aadhaar numbers have been registered with the EPF and validated on the new portal can utilise the service. Using the member sewa site of EPFO, you can determine whether your EPF accountis linked to Aadhaar card.
You can check this by logging onto your EPF account and selecting the "Manage" tab's "KYC" option. To use the new portal, one must also have their UAN (Universal Account Number) enabled and have a recent photo of themselves submitted on the portal.
Essential Things to Keep in Mind When Nominating Family
The subscriber is free to change their nomination at any time.

The nomination should support one or more family members.

In the absence of family, the member may suggest anyone.

Family members may be nominated jointly or severally, each receiving a specific portion of the amount.

The employee is entitled to a pension after serving for a minimum of 10 years.

The employee is not permitted to nominate anyone outside of his immediate family if he has a family.

An unmarried member who gets married must submit a new nomination.
In Conclusion
The EPF nomination is one of the most significant parts of an EPF account since the nominee is entitled to the total accrued corpus and additional benefits in the event of the account holder's death. As a result, you must use EPFO e-nomination to add a candidate to your EPF account. To get more information, visit Vakilsearch right away.
Also, Read: