If you have just registered your Registration Cum Membership Certificate online, let us provide you with a few details on how to check the Registration Cum Membership Certificate status of your application.
The export promotion council is an Indian government agency that assists in promoting export goods and services. The organisation accomplishes this by hosting trade events, promoting exports, and liaising between traders and the government. The registration or membership certificate is a document that assists exporters in becoming EPC members.
Anyone with a valid IEC number can apply for a Registration Cum Membership Certificate License. Those who do not yet have an IEC number must apply for one before attempting to join the EPC. The license mainly aids exporters in obtaining government incentives through the EPC. With Vakilsearch, you can now get a quick, hassle-free consultation with us.
How Can You Obtain a Registration Cum Membership Certificate in India
The certificate is issued by the Federation of Indian Export Organizations or FIEO. First and foremost, applicants must get an export or import number to meet the IEC code requirement. They can seek a Registration Cum Membership Certificate license from the concerned EPC or FIEO office once they have the IEC code. To receive a Registration Cum Membership Certificate license, the applicant must collect, appropriately fill out, and submit their application using form ANF 2C. The registration fee for the same is ₹5,000, which can be paid with a crossed DD drawn in the EPC's favour.
In addition, candidates must apply to the EPC board that oversees their export items. Businesses that export tea, for example, must apply to the Tea board. In contrast, spice exporters must apply to the Spice board. Additionally, depending on the nature of their firm, businesses can apply under one of two categories: merchant or manufacturer. Businesses will have to present further proof regarding their manufacturing facilities to register as manufacturing exporters.
Documents Required to Obtain This License
The following documents are required to obtain RCMC certificate apply online in India:
Payment of the registration fee by DD

IEC number self-attested copy and PAN card copy

Additionally, a self-attested copy of the partnership deed or memorandum and articles of association and a self-attested copy of a document proving your status as a manufacturer exporter

Product specifications, production capacity, and equipment utilised to manufacture the product a letter from the relevant authority confirming the existence of the production unit

The SSI certificate of registration is required for SSI units

GST registration of incorporation.
Is this Certificate a Requirement for Exports From India?
This is issued by the federation of Indian export organisations or an export promotion council to exporters who wish to join the council. It primarily assists exporters in obtaining benefits from agencies that promote and develop India's export industry. This is valid for five years and shows that the company is registered with the EPC or FIEO. It is not, however, a requirement for exporting goods from India. Obtaining this license, on the other hand, provides organisations with several perks and advantages, making it an essential document.
Log in to the New Portal
You will need the following to access the Directorate General Foreign Trade (DGFT) portal: 
a) An internet connection

b) Log in with a valid user id and password
Then go through the steps below:
To log into the system, go to the DGFT website

Login by entering your user id, password, and captcha, then clicking the Login button.

After a successful login, the dashboard will display basic information such as IEC number, valid, IEC status, authorisations issued, etc. 

The left pane of the screen will display FYA notifications.
Learn More About RCMC Certificate Download
View and Track Submitted E-Submitted Applications
Track Application Status allows the applicant to view their submitted application.
Navigate it to my dashboard > then go further to submitted applications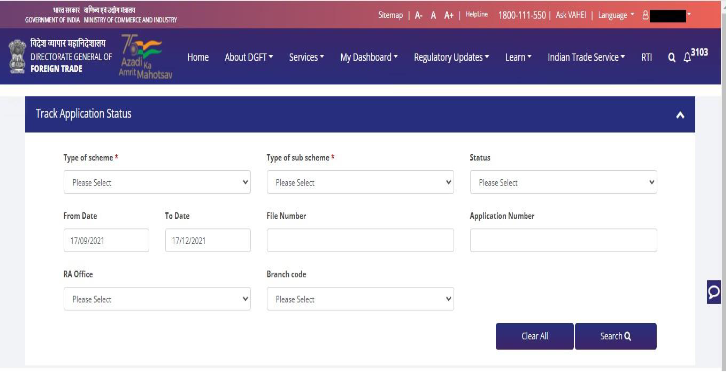 Choose the appropriate scheme type

Select application for issuance of registration-cum membership certificate as the sub-scheme and then search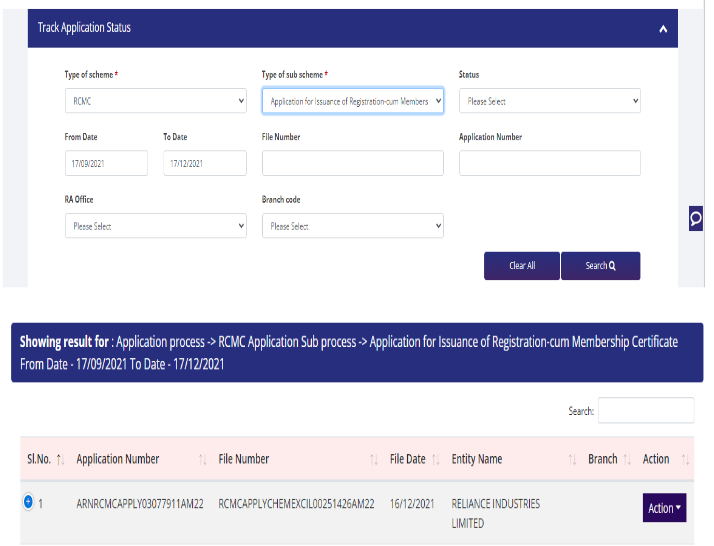 Select application for amendment of registration-cum membership certificate as the sub-scheme and search

Click on search and type in an application for renewal of registration-cum membership certificate as the sub-scheme.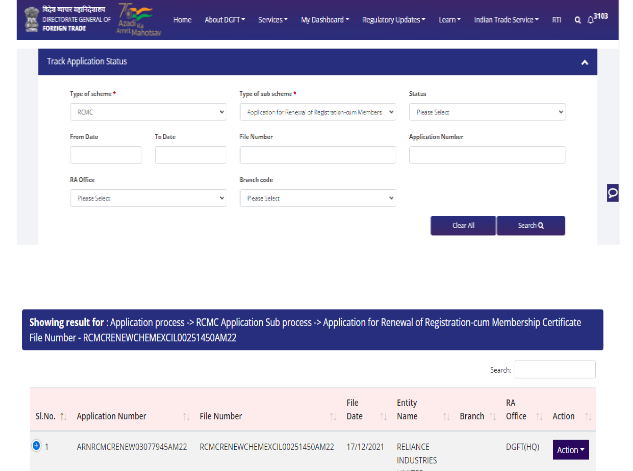 View Submitted e-form Details in IEC Profile
Navigate to Manage Profile on the Home Page.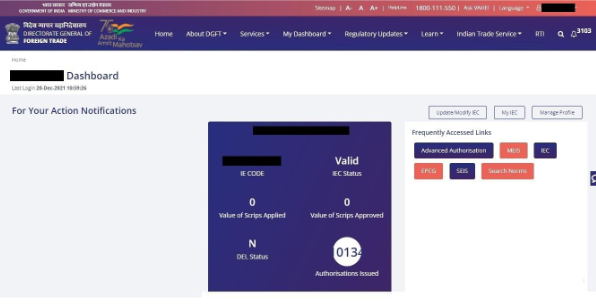 After choosing Manage Profile, a dashboard will appear with your username and all of your details.
To examine the e-certificate details in the IEC profile, click on Registration Cum Membership Certificate.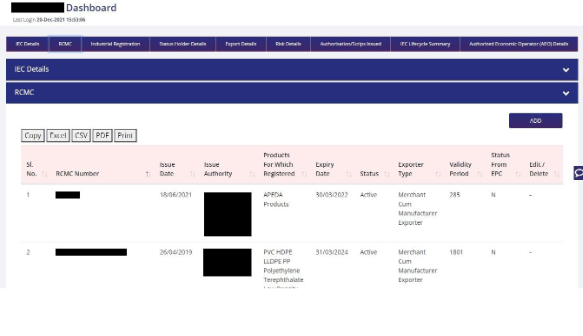 By pressing the copy button, the user can copy the e-certificate details.

By clicking on the excel button, the user can acquire e-certificate details in an excel sheet.

By selecting the CSV option, the user can obtain e-certificate information in CSV format.

By using the print button, the user can print the e-certificate details.
Why Vakilsearch?
Simply tell us about your company, and you'll receive your Spice Board Certificate in 30 working days (subject to government approval). It's that easy
We handle all of the paperwork so that communicating with the government is as simple for you as feasible. For you to set reasonable expectations, we'll also provide total transparency into the procedure.

If you have any questions about the process, please contact our team of expert business consultants. However, we will make every effort to dispel any doubts you may have before they emerge.
Read More: