Among the new rules of Income-tax (22nd Amendment) Rules, 2020 that were released by the CBDT on October 01, 2020, there is a new Rule 21AG, in which a taxpayer may exercise his option under section 115 BAC, if the option is exercised. In the future, individuals or Hindu undivided families will be able to include details of any previous year relevant to any assessment year that begins on or after April 1, 2021, in Form 10-1E.
In accordance with Section 12A of the Income Tax Act, 1961, Form 10 is filed for the registration of a religious charity, trust, or institution. A New Manufacturing Domestic Company is permitted to exercise an option to pay taxes at a reduced tax rate of 15% (plus surcharges and cess) as per Section 115BAB of the Income Tax Act, 1961, provided that certain conditions are met.
In the event that the company fails to meet the stipulated conditions in any previous year, the option will become invalid for that previous year as well as for any subsequent year, and as a result of this, the company will be subject to all other provisions of the Act despite the fact that the option did not be exercised for that previous year or any subsequent year.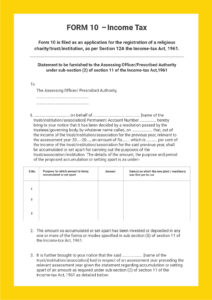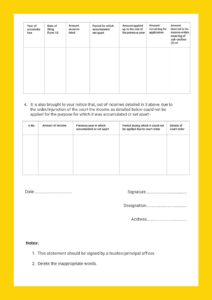 Conclusion
Registered users: https://www.incometaxindia.gov.in/Pages/downloads/most-used-forms.aspx who have been incorporated on or after October 1, 2019 and who have commenced manufacturing or production on or before March 31, 2023, are considered New Manufacturing Domestic Companies. You can reach our team , incase of any help or doubt regarding form 10 income tax. Click here to file your Income tax returns.
Read more: