Read this blog to learn how to apply for a SC/ST certificate in Delhi and how you can get an SC certificate.
The Delhi Government's official website allows you to apply for an scheduled caste or scheduled tribe certification manually or digitally. There is no amount charged, and the overall process is free.
Scheduled Caste (SC) / Scheduled Tribes (ST) 
SC or ST General Certifications are awarded to Indian individuals who are members of the Scheduled Caste or Scheduled Tribe category. Every Indian person who belongs to any backward class, such as SC/ST/OBC, must obtain a caste certificate. They will be able to get government assistance if they have this certificate.
A Caste Certification is evidence of one's caste membership, mainly if one belongs to one of the "Scheduled Castes" outlined by the Indian Constitution.
Individuals from the same state will receive SC certificates from the state authority. As a result, applicants must apply for SC certificates through the appropriate state authority, either paper or electronic.
Some states do not give Scheduled Caste certifications digitally and require applicants to apply in person. To submit the application form, individuals must approach their state government. Each state's Official Backward Class Assistance Division has its website.
Scheduled Caste (SC) / Scheduled Tribes (ST) Certification Benefits 
People with an SC certification are eligible for various state government privileges. The Indian government has set up numerous plans and scholarships for backward-class learners so that they can benefit from all of the government's provisions. The key objective of these certifications is to improve the standard of living for persons from lower socioeconomic groups and to assist them in developing their abilities.
Government guidelines allow SC credentials to assist in getting reserved places in schools and institutions.

SC credential holders are given priority in professional tests and sponsorships.

SC candidates have slots in government and private sector employment designated for them.

They are eligible for government assistance.

Accommodation and self-employment schemes are available to SC candidates.

People with SC certifications are assigned house locations.

SC certificate holders can also profit from the government of India's land grants.

The most crucial advantage of receiving an sc certificate issuing authority in Delhi is that the applicant is eligible to enter politics.

Format of Scheduled Caste (SC) / Scheduled Tribes (ST) Certification 
Candidate's name

Father's name

Name of the village/town or district/division

Name of the state or territory

On the caste certification is a list of government acts.

Date and Location

Issuing officer's signature and designation
In Delhi, what do I need to Apply for a Scheduled Caste (SC) / Scheduled Tribes (ST) Certificate?
To seek an sc certificate issuing authority in Delhi, a person must submit relevant documentation to authorities and the form for verification. As a result, we've compiled a list of documents that will be required:
MP/MLA/Councillor/Gazetted officer attestation the completed application form.

PAN/PASSPORT/Driving License/Voters Card as proof of identity. 
The applicant's name on the Aadhar should be the same as the applicant's name.
The applicant's photograph will be recorded using a webcam at the time of application submission or verification.
The applicant's photograph must match the photograph on the Aadhaar card.
Proof of their father's, brother's, sisters', or blood relative's

SC/ST certificate.

SC certificate affidavits.
Offline Application for Scheduled Caste (SC) / Scheduled Tribes (ST) Certification  
Individuals can also apply for SC certifications at a local Tehsil office, SDM desk, Tax office, or government-run institutes. To apply, follow the procedures below: –
Request an application form from a local Tehsil or District office and fill it out completely, including your name, address, and contact information.

Mention the information about your blood relative who possesses an SC certificate.

SC class gets a checkbox.

Fill out the self-declaration section and sign it.

Attach a passport-size photograph and provide a local reference address for proof.

After completing the forming process, self-attest the appropriate papers and attach them to the form.

Submit your request to the appropriate official and wait sixty days for a response.
How do I apply for a Scheduled Caste (SC) / Scheduled Tribes (ST) certificate in Delhi using the web?
To apply for an SC certificate online, follow the steps outlined here – 
Go to Government Welfare Portal: https://services.india.gov.in/service/detail/online-application-of-caste-certificate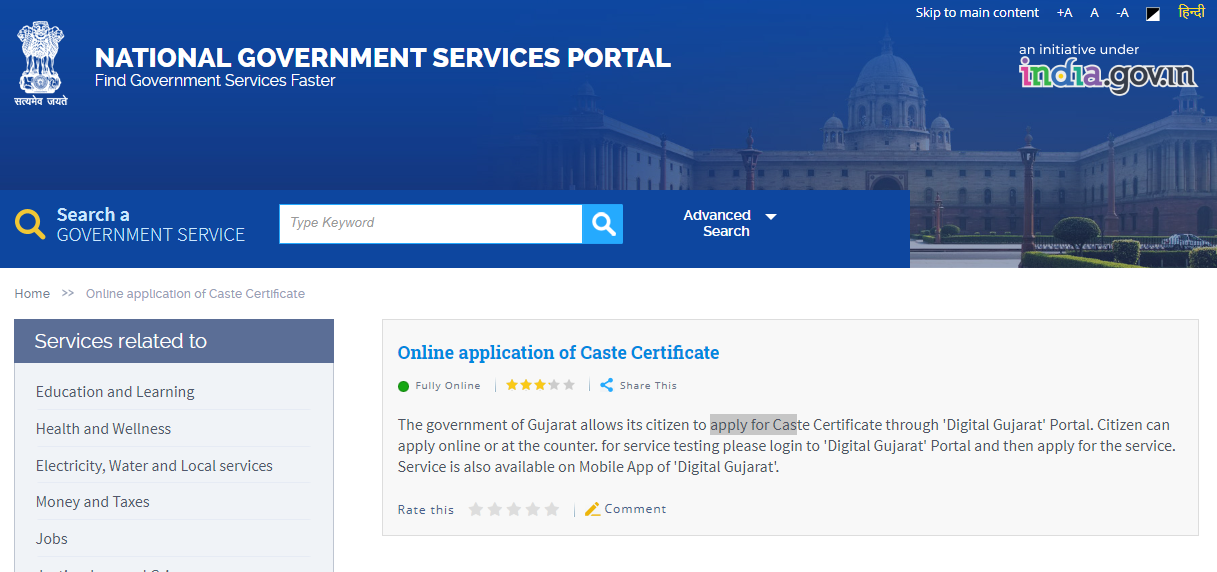 "Apply for Caste Certificate online" is the Web address to use.

Fill up the needed information to register.

A login id and passcode will be issued and delivered to the contact details you provided.

Now use your account password to access it.

Complete all fields, including identity, current and permanent residence, age, birth date, father's name, citizenship, religion, contact information, blood relation information, locality references, etc.

Check the information and submit the application form.

Next, upload the digitized version of the original documents as instructed.

After submitting your registration, you will receive a validation sheet, which you can print and keep for offline use.

Furthermore, also save registration details so you can check on its status.

You will receive a text or a letter stating that your SC certification is ready after the verification is completed.
Conclusion
Here is a complete brief of what you have just read above – SC certifications, or Scheduled Caste credentials, are issued to Indian individuals who fall under the SC section for them to get government benefits. Individuals can apply for an SC certificate by going to their state's backward classes. To obtain an SC certification by mail, people must go to a local Tehsil or SDM. Complete the form and attach the appropriate self-attested documents. Submit the form to the officer and wait for a response of 40 to 60 days. Proof of identity, address, attestation for SC certification, and proof of a family link to the SC category is needed. The government of India provides several benefits to those who fall under the SC or other backward categories. They can gain reserved category admissions to schools and colleges; they have lower cut-off margins in professional tests. We hope this makes things easier for you now. 
Read more: