The Pradhan Mantri Awas Yojana - Gramin (PMAYG)- a housing programme in 2015 with the intention of giving rural citizens of the nation access to affordable homes. Read below to learn more!
The Pradhan Mantri Awas Yojana – Gramin (PMAYG) plan was originally presented in 1985 under the name 'Indira Awaas Yojana,' underwent substantial adjustments, and was reintroduced in 2016 by the current administration as a part of their 'Housing for All by 2022' programme. The PMAYG Mission has just been extended and will now run until 2024. This effort helps thousands of people who live in rural areas. We shall learn about PMAYG 2022–23 and its advantages in the essay we are reading right now.
PMAYG 2022-23
The government has pledged to offer 'Housing for All' by the year 2022 in rural areas, and this commitment has led to the creation of the Pradhan Mantri Awas Yojana- Gramin (PMAY-G). The programme seeks to give all homeless householders living in kutcha and run-down homes a pucca house with basic facilities by 2022. Between 2019 and 2022, this initiative intends to build 1.95 crore pucca houses in rural India. The project's goal has changed, and it now calls for 2.95 crore pucca homes by 2024.
The finance minister asked for 80 lakh affordable homes to be built and supplied by 2023 in the Union Budget 2022–23. The finance minister also proposed giving ₹48 billion for stalled projects for affordable housing across the country. It will speed up construction projects. As of right now, the minimum size of the dwellings that must be built as part of the PMAYG 2022–23 project has increased from 20 square metres to 25 square metres.
PMAYG 2022-2023 Subsidy Scheme
Loans from partner financial institutions in the amount of up to ₹ 70,000 are available to programme beneficiaries.

A three percent stipend piques the curiosity of programme participants.

₹ 2 lakh is the maximum amount of principal that can be awarded under the subsidy.

The highest amount of the subsidy that may be acquired for the required EMI (installments) is ₹ 38,359.
Pradhan Mantri Awas Yojana Gramin 2022-23 Overview
| | |
| --- | --- |
| Scheme Name | Pradhan Mantri Awas Yojana Gramin (PMAYG) |
| Official Website | pmayg.nic.in  |
| Toll-Free Number | 1800-11-6446 / 1800-11-8111 |
| PMAYG Beneficiary Registration Guide | Download Manual |
| PMAYG  | Portal / Application |
PMAYG 2022-23 Objectives
The program's goal is to give financial assistance to people who don't own homes, those who live in kaccha houses or demolished homes, and those who live in these situations. Along with building homes, the proposal calls for the provision of electricity, LPG water, and road connections, among other necessities.
By 2023, every household without a home and those in rural areas with deteriorating housing would receive a pucca home.

By giving rural people access to necessities like power, sanitary facilities, and clean water, we can raise their quality of life.

To generate jobs in the rural building industry.

To improve rural living circumstances in order to decrease rural to urban migration.

To promote general development and raise rural households' standard of living.
Did you know?
There are also some drawbacks to the PMAYG. For example, the scheme does not cover rural areas that are not part of the PMAYG. In addition, the PMAYG does not address the issue of affordability of housing for rural residents

The average cost of a house built under PMAYG is ₹1.20 lakhs for non-hilly areas and ₹1.30 lakhs for hilly or difficult areas.
PMAYG 2022-23 Benefits
The 'Pradhan Mantri Awas Yojana – Gramin,' or PMAY-G, is a government of India programme that attempts to give rural Indian households access to inexpensive housing. The following are only a few advantages of the PMAY-G programme:
Better living conditions: The PMAY-G programme offers financial aid to rural households so they can build or renovate their homes, which can help to enhance their quality of life and living conditions.

Enhanced security: A stable and safe home can contribute to rural households' increased sense of security and wellbeing.

Access to affordable housing can boost the economic options accessible to rural households since it can free up resources that can be used for other initiatives like company development or education.

Social and community benefits: The PMAY-G programme may also provide social and community advantages by fostering a feeling of community and bringing people together.

Benefits to the environment: The PMAY-G programme may have positive effects on the environment by reducing the demand for squalid or temporary accommodation, which is frequently found in environmentally sensitive places.
PMAYG 2022-23 Eligibility
Deprivation scores and priority lists are part of eligibility.
The programme aids families who are homeless.

Kutcha dwellings might be two, one, or zero rooms.

households without a 25-year-old with literacy.

households without a male resident aged 16 to 59.

households without adults aged 16 to 59.

family without land who rely on casual labour.

This plan also emphasises SC, ST, and other minorities.

households when there is only one person with a disability and no other able-bodied members.
Documents required
The documents required are as follows:
Aadhaar number

Consent document to use Aadhaar on behalf of the beneficiary

MGNREGA-registered beneficiary job card number

Swachh Bharat Mission (SBM) number of the beneficiary

Bank passbook, IFSC code

Mobile number (optional)
PMAYG 2022-23 Application Procedure
You need a login ID on the official website in order to apply.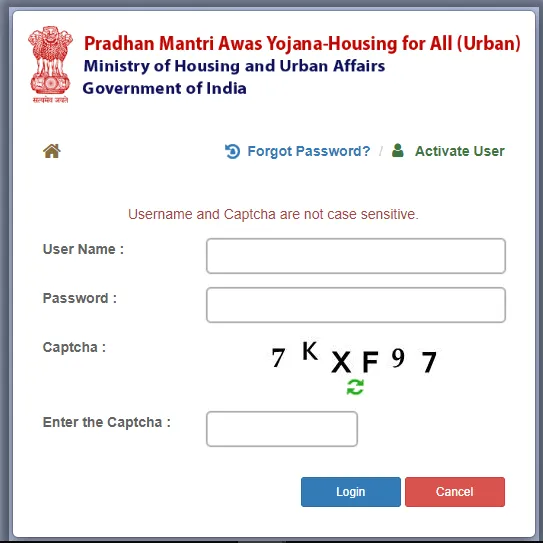 Log in to PMAYG. Press login after providing your login information.

When you log in successfully, a form will appear.

Please make sure the appropriate details, such as gender, mobile number, Aadhaar number, etc., are put in the personal details field.

To utilise your Aadhaar number, kindly upload the permission form that has been signed.

Click the search button to find the beneficiary's name, PMAY ID, and priority.

Use the 'Select to Register' option to sign up.

The recipient-specific information will be generated and presented automatically.

The remaining beneficiary information, including ownership type, relationship, Aadhaar number, etc., may now be entered.

Upload the authorization document required to use the beneficiary's Aadhaar number.

In the next part, you'll fill out the relevant forms with the beneficiary account details. This contains the name of the recipient, the account number, and any other relevant information.

Select 'Yes' and specify the bare minimum required for the loan if the recipient is interested in receiving a loan.

You must enter the beneficiary's Swachh Bharat Mission number and MGNREGA work card number in the subsequent section.

The office in question will be in charge of completing the next section.
PMAYG 2022-23 Check Status
The techniques listed below can be used to check the status of the PMAYG subsidy online:
Visit the official website at https://pmayg.nic.in/netiay/home.aspx at this location.

Then Go to the 'Awaasoft' tab on the homepage.

Enter the captcha code in addition to the FTO number or PFMS ID. To submit, click the button.

On the screen, the application form's current status will be displayed.
FAQs on PMAYG 2022-23
Can I apply PMAYG in 2023?
The deadline for LIG and EWS category applications is March 31, 2022. MIG(I and II) Category applicants for the PMAY programme. The implementation date was postponed by the Union Cabinet to December 31, 2024.
Who is not eligible for PMAYG?
Households with no adults over 25 who can read and write. households without a male adult member between the ages of 16 and 59. households between the ages of 16 and 59 without any adults. households with a disabled member and no members in the able-bodied category.
Can PMAYG be rejected?
Because your PMAY claim could be denied for even the tiniest of reasons, it's critical that you proceed with caution during the claiming procedure. You should do it since it will make buying a home more affordable thanks to the financial benefits you would receive as a PMAY beneficiary.
Can I avail PMAYG twice?
You cannot apply for PMAY more than once. Details from an applicant's Aadhar Card are connected to their PMAY application. Because of this, even if the applicant applies twice, the second application will be rejected due to his or her Aadhar information.
How do I know how much PMAY is approved?
Visit PMAY's official website. Select 'Search Beneficiary' from the main menu. Select 'Select by the name' from the menu. To check the progress of your PMAY application, enter your Aadhar number.
Also, Read: