Any business in India, whether it deals with goods, services, or both, must register for GST if its annual turnover exceeds the threshold limit set by the GST regime. In this read, we will help steer your GST registration efforts in the right direction.
GST Online Registration – an Overview
GST, or the Goods and Services Tax, is the most recent addition to the Indian taxation system, and it is levied on the supply of goods and services. 
According to the GST rules, any business that sells goods and has a turnover of ₹40 lakh or more is required to register as a normal taxable entity. Similarly, a service provider with an annual turnover of more than ₹20 lakhs must also register for GST. Additionally, a special threshold of ₹10 lakh is fixed for those businesses operating in the northeastern states.
To guarantee that business operations run smoothly, GST online registration is required. It takes about 3-6 working days to complete the entire GST registration process. Further, businesses that operate without GST, are considered illegal and are vulnerable to hefty fines and penalties.
Difference Between SGST and CGST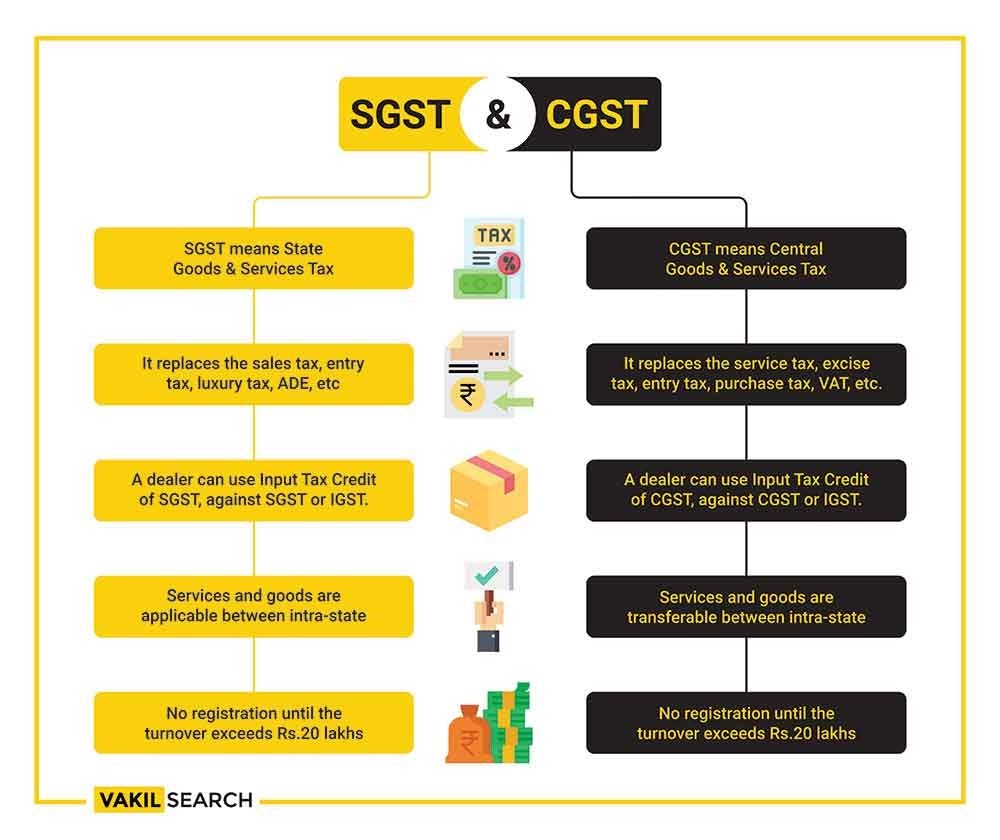 Documents Required for GST Registration
PAN card of the applicant

Aadhaar card

Bank statement of the applicant along with a cancelled cheque

Address proof of your office

Incorporation certificate

Director's address and ID proof

Letter of authorisation or board resolution with the authorised signatory.
Steps for Online GST Registration
The following guide will simplify the online registration process for GST –
Step 1
Visit the official website of GST
Step 2
Once you log on to the portal, select 'Taxpayers' and click on 'Register Now'
Step 3
Then click on 'New Registration'
Step 4
An 'I am a' drop-down menu will appear, select Taxpayer
Step 5
Then choose your state and district
Step 6
Provide the name of your company and the PAN
Step 7
Add an active email ID and mobile number, as an OTP will be sent to these channels
Step 8
You are then required to enter the CAPTCHA as shown in the picture and click on 'Proceed'
Step 9
Once you are done entering the details about your company, you will be directed to the next page where you have to enter the OTP sent to your mobile number and email ID
Step 10
After entering the OTP, click 'Proceed'
Step 11
A Temporary Reference Number or TRN will be displayed on the screen. Make a note of it
Step 12
You will then have to go back to the GST portal and click on the Register option present under the Taxpayers tab
Step 13
Enter the Temporary Reference Number or TRN followed by CAPTCHA details and click 'Proceed'
Step 14
Enter the OTP number in respective boxes and click on 'Proceed'
Step 15
On the next page, you can find the status of your application
Step 16
Click on the 'Edit' icon present on the right side
Step 17
You will then be directed to a page with ten sections. It is mandatory to fill all ten sections
Step 18
After you have entered all the details and submitted all the necessary documents. Go to the Verification page. Check the declaration and submit the application via any of the following methods:
EVC or Electronic Verification Code

– An OTP is sent to your registered mobile number

e-Sign method

– An OTP will be sent to your mobile number which is linked to your Aadhaar card

DSC or Digital Signature Certificate

– This method is crucial for companies. If you don't have a DSC yet, get in touch with our experts and get one right away
Step 19
After successful completion of the above-mentioned steps, an Application Reference Number or ARN will be sent to your registered mobile number and email ID
Step 20
You can check the status of your application with your ARN on the GST website.
How to Make an Online GST Payment
GST online payment is an easy process, the following steps will take you through the motions:
Visit the GST portal

Enter your username, password, and CAPTCHA

Once you log, select

Payment

from the service tab 

Generate a

Challan

Enter the payable amount and select the payment mode

A summary of the challan page will appear, here you have the option of choosing either the online or the offline mode of payment

Once you have made the GST payment online, you will receive the receipt through e-mail and SMS

In case of offline payment, you will have to visit a bank and make the payment via NEFT, RTGS, or debit or credit card.
How Vakilsearch Can Assist You?
Our experts will take the time to address all your queries on the GST registration process

After ascertaining your needs, they will collect all the necessary documents from you and apply for GST registration on your behalf

They will also follow up with the concerned authorities to ensure quick approval of your application

Moreover, in case the application is rejected on any of the various grounds, our experts will work tirelessly to help you rectify that flaw in your eligibility

The experts will also handle any post-registration formalities and compliances.