The Ministry of corporate affairs (MCA) has recently revised the compliance norms for Nidhi companies. The Ministry has also advised the investors to verify the status of a Nidhi company from the notification issued by the Centre in the official gazette before making any investment or deposit.
What is a Nidhi Company?
The word 'Nidhi' in a

Nidhi Company

finds its roots in common Hindi vocabulary and means 'treasure'. In the Indian financial sector, a Nidhi business refers to a type of company registered as per the provisions mentioned in section 406 of the Companies Act, 2013. The main objective of a

Nidhi Company

is to encourage the noble habits of frugality and savings amongst the members. However, these companies are the Permanent Funds, Benefit Funds, Mutual Benefit Funds, and Mutual Benefit Companies. Their financial dealings (lending and receiving money) are strictly limited to the members and the memberships, in turn, are restricted to individuals only.

This means the funds infused into such a Company are obtained from the members only and can be used by its members only. They need to comply with the Nidhi Rules, 2014 and the Companies Act 2013 for their activities. They are predominantly regulated by the Ministry of Corporate Affairs (MCA) but, the RBI can also issue necessary directions if required.
Nidhi Company Registration
If you want to start a business that deals in loans or financing in India, going the 'Nidhi way' is the easiest option. The Registration of Nidhi Company is less complex when compared to that of the NBFCs.  However, to be eligible to register, it must meet the below-mentioned criteria within 1 year of incorporation-
It should be able to add at least 200 members. But, no corporate, minor or body shall be a member of the Nidhi Company.

You should designate three members as directors.

It should suffix the words 'Nidhi Limited' in its name.

It should have a minimum Net Owned Fund (NOF) of  ₹ 10 Lakhs. Also, at least 10% of its outstanding deposits should comprise unencumbered term deposits.

The prescribed NOF to deposits ratio is 1:20.
The company must have a registered office anywhere in India. To complete the registration formalities, it should furnish the below-mentioned documents-
Identity proof of its directors and shareholders

– Copies of PAN cards for Indian nationals and passports (attested) for foreign nationals (if any).

Residential proof of its directors and shareholders-

Copies of ration card/passport/Voter ID/ Aadhar card/ driving license/Utility bill.

Proof of registered office-

Copies of sale deed/rental agreement, property tax receipt, utility bill and NoC from the landlord (for a rented property). No utility bill should be older than 2 months.

Incorporation documents-

Signed document of digital signature application and soft copies of other incorporation documents (signed).

Passport-sized photographs

of the directors.
Check out the blog: 5 things to keep in mind before starting a Nidhi company.
NIDHI COMPANY REGISTRATION
Advantages: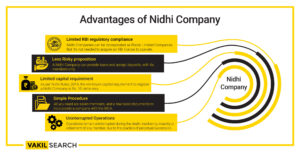 There are several advantages of starting a Nidhi Company in India. We will have a look into some of these:
Limited RBI regulatory compliance
Nidhi Companies need to incorporate themselves as Public Limited Companies with the MCA. And it's not mandatory for them to get an RBI license to operate. However, they need to comply with the less stringent Nidhi Rules, 2014 and the Companies Act 2013 for their financial activities. As RBI has exempted the Nidhi companies from stringent compliance of its core provisions. They have the much-needed ease of regulatory compliance. 
Less Risky proposition
As per provisions of the rules, 2014, a Nidhi Company can provide loans to and accept deposits from its members only. This makes it a less risky proposition as the risk of loan default is less as compared to other businesses of similar nature. Also, as all financial activities are restricted to the members-only, there is less risk of external factors affecting the working of such companies. However, it's one of the safest and the easiest ways of inviting deposits from the public. Register them as members.
Limited capital requirement
As mentioned in the Nidhi Rules, 2014, the minimum capital requirement to register a Nidhi Company is  ₹ 10 Lakhs only.
Simple procedure of formation
The process of forming this type of company is fairly simple. You just need 7 members to start with, a few simple documents and then need to incorporate your company with the MCA through a simple registration process.
Uninterrupted operations
The normal operations of a Nidhi Company are not uninterrupted even at the death, insolvency, insanity or retirement of any member, thanks to the practice of perpetual succession. However, the Company will remain in operation irrespective of any such inevitable change in any type of membership.
Conclusion 
Small financers prefer Nidhi Company because it is a much better option than Credit Co-operative Societies. It is easier to register a Nidhi Company, and it comes with all the benefits of a co-operative society. It is no wonder, then, that the Nidhi Business is currently trending in the Indian financial market.
To know more about Nidhi Company: Click here
Also, Read: