A notification from the Directorate General of Foreign Trade (DGFT) states that animal by-products are no longer free to export,
Import-export code is a 10 digits unique ID issued by the Director-General of Foreign Trade, Ministry of Commerce, Government of India to Indian Companies. In simple terms, the IEC code is required by exporters and importers to operate import/export businesses.
 Therefore, IEC is a mandatory requirement and no person or entity shall make any import or export without an IEC number. In this article, you will understand the entire process of obtaining an IEC number.
What Is an Import-Export Code?
India has emerged as the trading hub in south-Asia. With globalization and the coming of the free market, there has been immense potential for cross-border trade in India. More and more companies today, in search of cheaper alternatives are looking beyond the border and engaging in the import-export business. 
In order to facilitate the import-export business, the government has come up with the concept of an import-export code or IEC, as it is generally known. IEC is allotted to all companies engaged in the business of import and export in order to have a record of all their activities using one 10-digit identification number.
Eligibility for Obtaining the IEC Number
The entire functioning of import and export in India is governed by the provisions of the Foreign Trade (Regulation) Rules, 1993. Therefore, IEC is also regulated by the same statute. In case the import/export is of services or technology, IEC is required in only limited circumstances, when import/export is in 'specified services' or 'specified technologies', i.e. services or technologies in which international trade is restricted by the Government of India as they pertain to national security, such as dealing in nuclear weapons, automatic guns, etc. IEC is not required under the following circumstances:
Import/export of goods for personal use, which is not connected with trade, manufacture, or agriculture. 

Import/export by government ministries and departments, and certain notified charitable organizations.
What Is the Procedure for Obtaining the IEC Number?
The applicant's Registered/Head Office will make the IEC application with the nearest Regional Authority of Directorate General Foreign Trade (DGFT), in the case of a company it is the Registered office and for others, it is Head Office. 
The applicant must submit the required forms and duly fill in 'Aayaat Niryaat Form – ANF2A.
Only one IEC will be issued against a single PAN number. If there is more than one IEC allotted to a proprietor, the same may be surrendered to the Regional Office for cancellation. 
It should be noted that as per the provisions only one IEC can be issued against a single PAN number.  In case there are more than one IECs allotted to a proprietor, the same may be surrendered to the Regional Office for cancellation.
Click here: Procedure Involved in IEC Registration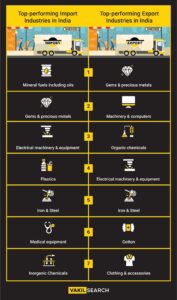 Mandatory documents required for IEC code:
Current account details

Bankers Certificate

Two copies of passport-size photographs

A self-addressed envelope for delivery of the IEC certificate by registered post
How to get the IEC application form online? 
The application form for the grant of Import-Export code online, that is the ANF2A,  can be downloaded in a PDF or Word format from the website. If you are applying, you must make sure that Appendix 18B is attested by the bank authorities on his letterhead along with two passport-size photos. An IEC number allotted to an applicant shall be valid for all its branches/divisions/units/factories as indicated in the given format. 

There is a nominal IEC application fee for the form i.e., ₹ 250/-. Whether you are filing online or offline, you can pay through DD (Demand Draft) or through TR6 challan. Or otherwise, you can pay through EFT ( Electronic Fund Transfer) by the Nominated Bank of DGFT. The applicant has to submit the TR6 Challan along with the IEC Code application.
Conclusion 
You can fill out the Import Export Code application online at the DGFT website. The IEC application must be completed without any mistakes and signed. It is very likely that authority will reject an application if it is found to be incomplete. Applications submitted manually should be submitted in Word format as a soft copy.
FAQ
What to do in case you lose the IEC number? 
In case you lose or misplace your IEC number, the issuing authority may consider requests for the grant of a duplicate copy of the IEC number if accompanied by an affidavit.
What to do if you no longer want the IEC number? 
In case one is not willing to operate the allotted IEC number, the same can be legally surrendered by informing the issuing authority. On receipt of such intimation, the issuing authority shall immediately cancel the same and electronically transmit it to DGFT for onward transmission to the Customs and Regional Authorities.
Also, Read: