Are you a resident of Tamil Nadu and looking to get married to the love of your life? Here's all you need to know about registering your marriage in TN.
While post-wedding photoshoots and celebrations are important, don't forget to make time to register your wedding legally. Furthermore, you need this marriage authorization document if you want to go on an international honeymoon or relocate abroad with your spouse. Hence it is necessary for you to apply early so that you may get a spouse visa in time.
While spending time with your loved one is vital for a good wedding, don't forget or postpone this procedure because it ensures that your wedding will be Recognized as a legitimate union in India. In this blog, you will get to know about the procedure to register a marriage in Tamilnadu.
Why do you need to file your wedding in India?
A marriage registration document is an important legal document that provides a legal and valid definition of a couple's relationship. Furthermore, it is frequently used as proof of the wedding when applying for several other documents such as:
Adding your spouse's name to your passport, bank account, or Aadhar card

While changing your maiden name

While claiming life insurance return

Partner visa for spouse
Conditions and Eligibility to register a marriage in Tamilnadu
In Tamil Nadu, every wedding can be certified and registered as per:
Tamil Nadu Marriage Act, 2009

Special Marriage Act, 1954

Christian Marriage Act, 1872

Muslim Marriage Act, 1954

Parsi Marriage and Divorce Act, 1936
Weddings under all the aforementioned Acts are legally binding and which Act you choose to validate your wedding legally depends on the religion you follow and the circumstances leading up to your wedding. To constitute a legitimate as per the Acts mentioned above, here are the conditions you need to meet:
Both the groom and bride must be above the age of 21 and 18 respectively.

Both the intending spouses must give their consent to the wedding freely and voluntarily.

Neither the groom nor the bride should have another living spouse recognized by law.

A licensed government official needs to be present to the wedding must be solemnised in front of a licensed government official and at least two other reliable witnesses.
Which Act is applicable to register a marriage in Tamilnadu?
Any new wedding conducted not before 150 days can be registered under the Tamil Nadu Marriage Act, irrespective of the religion of the bride and groom.

A wedding ceremony older than 150 days can only be registered as per the Hindu Marriage Act or Special Marriage Act, and so on, and this certification is based on the religion of the bride and groom.

The Hindu Marriage Act works only if both the husband and wife are:
Hindus

Buddhists

Jains

Sikhs
If either spouse is of a different religion than the ones stated above, then those individuals may find the Special Marriage Act to be more suitable and applicable.

Hence, the Special Marriage Act works for inter-religion marriages while the Christian Marriage Act may be used to register all Christian weddings as the name suggests.
Procedure to Get a Wedding Document
Locate a registrar or sub-registrar office near your vicinity. You can also search online to find out which office you are eligible to apply to as per law.

The registrar is selected depending on whether he or she was present to solemnise the wedding or sometimes because it was within the jurisdiction that either of the spouses resided in for over six months.

Apply either offline, directly to the office or online – https://services.india.gov.in/service/detail/marriage-registration.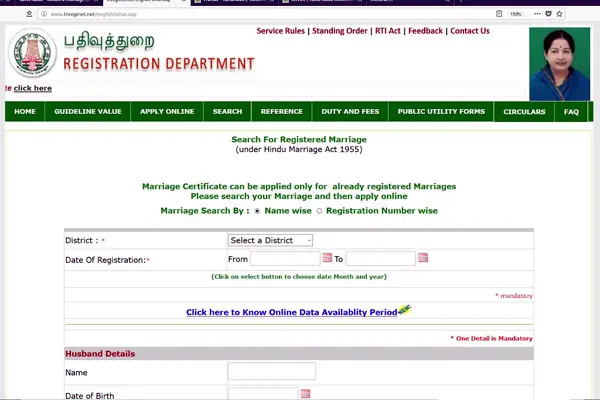 Submit the form.

Visit the registrar on the delegated date to complete the process.

When you visit the office, the registrar will verify your uploaded and submitted documents.

Following successful verification, the

Wedding authorization application

process will be deemed complete.
According to the Special Marriage Act, both spouses must provide a 30-day interim period during which the registrar's office will post their wedding notice so that anyone who objects can raise the matter before the couple is officially married. The wedding will be registered if there are no objections after this period.
If the online Application is complete, obtain the wedding document by clicking the following link. If not, get in touch with our experts right away! Our professionals will ensure that no legal entanglements will affect your married life right from the get-go!
Read more,