A caste certificate is a documentary proof of your caste that plays an important role in procuring jobs and other opportunities. Read the article to find out why it is important and how to apply for a caste certificate online.
The caste certificate is an essential document in several Indian states, Maharashtra being no exception. Like people from most states in the country, those living in Maharashtra can also enjoy certain benefits if they possess a caste certificate. With the advent of technology and the evolution of the internet, you can now manage all tasks related to obtaining a caste certificate online. Whether applying for a certificate or keeping track of your caste certificate status, you don't have to step out of your home.
Caste certificates are issued to Indian citizens belonging to Scheduled Castes and Scheduled Tribes. A caste certificate can help them get jobs and admission to educational institutions through central and state government quotas. The Indian government offers these facilities because people from the Scheduled Castes and Scheduled Tribes have been deprived of such privileges. Continue reading to learn about the purpose of a caste certificate in Maharashtra and how to access it online.
The Purpose of a Caste Certificate
As we reflect on the history of class and caste in our country, we should remember that inequality has existed for many centuries. In an attempt to help the people from backward castes overcome the age-old struggle, they have been given special reservation provisions. Individuals from categories such as the Scheduled Caste [SC], Scheduled Tribe [ST], and Other Backward Classes [OBC] can use a caste certificate for reservation in government jobs and secure promotions as well. Caste certificates can also allow students to apply for scholarships and admission to schools, colleges, and universities. The reserved categories can also apply to various programs offered by the central government and the state governments of India. 
Documents Required
Obtaining your caste certificate is easy, but you must produce a few documents to guarantee authenticity. To get a caste certificate in Maharashtra, you must submit your application form, photographs, proof of residence, copies of your birth certificate, ration card, income certificate, voter ID card, and Aadhaar card.
How to Obtain a Caste Certificate Online
Although the process of obtaining a caste certificate online differs slightly for citizens in different states, the documents required and the steps to apply online are almost the same. Now, let us walk you through the steps to obtain your caste certificate online in Maharashtra:
Go to your browser and visit this

website

https://aaplesarkar.mahaonline.gov.in/en/Login/Login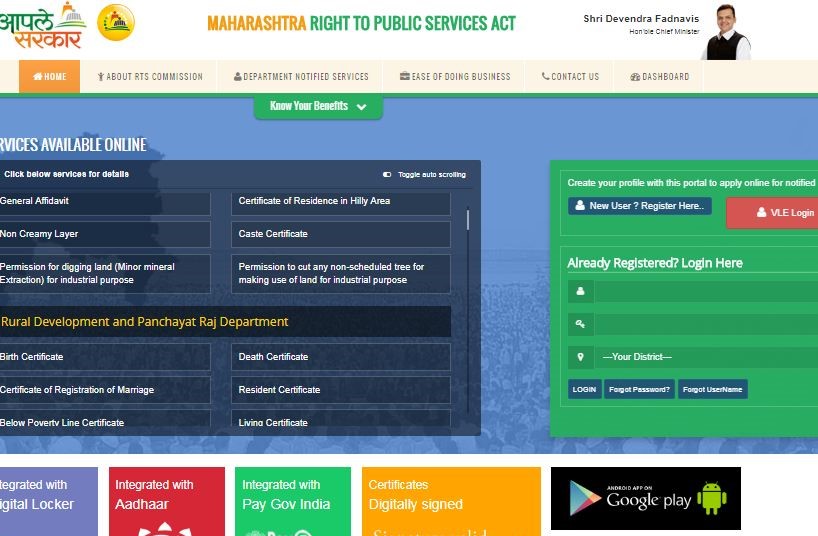 You will see a green box to the right of the home page where you can register if you're a new user, or log in if you already have an account

Once you have logged in, you will see a dark blue box that says 'Services Available Online'. The first subheading is 'Revenue Department'

Place your cursor on the blue box and scroll to find the '

Caste Certificate

' option. Click on it

A pop-up window will appear with a list of required documents, where you have to click the 'Apply' button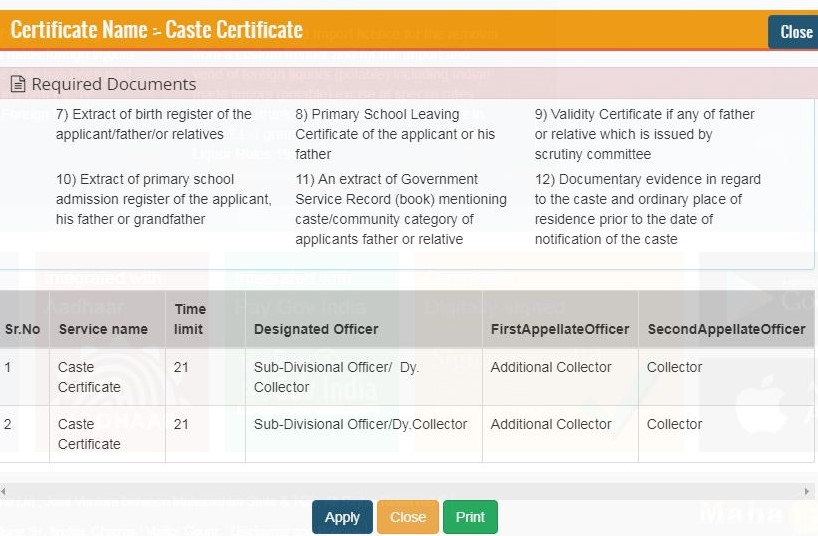 You will see a drop-down list, from which you have to choose your caste category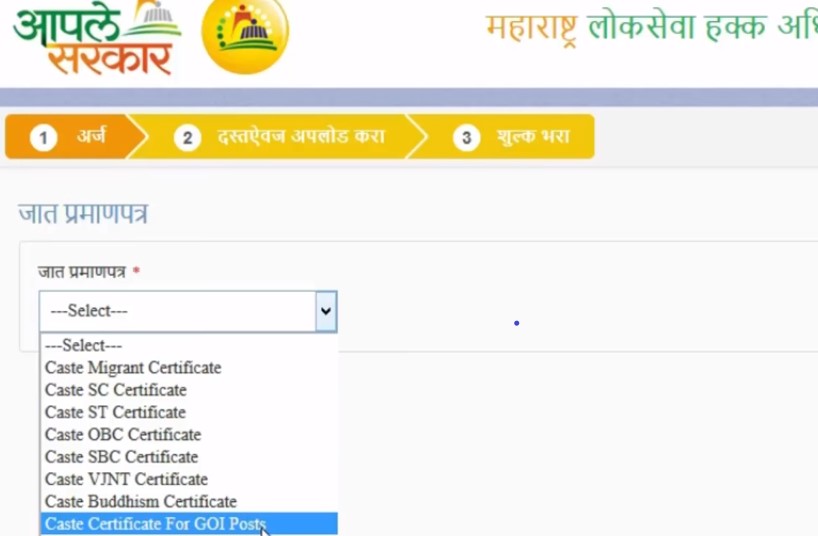 The application form will open, and after filling in the required fields, click on the 'Save' button

Take a printout of the receipt and application for future reference, and you are done.
As you can see, the steps are not difficult to follow. If you find the steps overwhelming and complex, you can opt for the physical mode of application
How to Procure a Caste Certificate Offline
Despite the ease that online application offers, some people still prefer getting their caste certificates in person. You can visit the nearest Tahsildar office if you like getting things done offline. You can either collect the application form from the office or download it, take a printout and fill it in. When you have completed filling out the application form, submit it at the Tahsildar office along with all the required documents and the application fee of ₹5. After this process, the applicant will receive notification about when they can obtain their caste certificate.
How to Track Your Caste Certificate Status Online
Tracking your caste certificate status is probably one of the easiest steps in the process
Log in to the same

website

Find 'TRACK YOUR APPLICATION' to the extreme right of the page. Click on it

From the drop-down menus, select 'Revenue Department', 'Revenue Servies', and 'Caste Certificate'

Enter your application ID and hit 'GO'

A pop-up window will appear, displaying the status of your caste certificate application
Conclusion
A caste certificate is probably one of the most important documents that secure our identity as citizens of the country. Whether you want to apply for admission to prestigious educational institutions or stand a chance to bag a great employment opportunity, your caste certificate can be of great help. Thus, it helps to know exactly how to apply for it, both online and offline, and then follow up on the status of your application.
Read more,