EPFO (Employees' Provident Fund Organisation) is a government body that handles EPF in accordance with the 1952 Act. The EPFO Portal provides access to all Employees Provident Fund-related information. EPFO Unified Portal digitizes and simplifies operations for companies and employees alike.
Users can check the status of their Provident Fund registration by logging in using their username

You can verify and claim your Provident Fund contribution with your UAN (Universal Account Number) on the EPFO Member e-SEWA Portal/UAN member portal

EPFO has created arrangements for its members to get various services via SMS on their registered mobile number

Using the EPF member portal, members can quickly and easily add their mobile phone number to EPFO's database.
Employee and Employer EPFO Login
Employees log in using:
Go to the EPFO's website

Select 'For Employees' in the 'Services' section

Go to Member UAN/Online Services (in the 'Services' section) when the new dashboard opens. You can also visit the EPFO Member Portal/e-SEWA Portal directly

Now, if you have an activated UAN, you can log in using it (Universal Account Number)

There is also an option to activate UAN below the 'login' area

Once your UAN is activated, you can login at any time to check the balance of your Provident Fund, the progress of any claim, such as PF settlement using form 15g for PF withdrawal.
Employers log in using:
Visit the EPFO Official Website and select 'For Employers' from the 'Services' section.

From the new dashboard, go to 'Services' and select 'Online ECR/Challan Submission/OTCP. 'The EPF Unified Portal for Employers can be accessed directly

After successfully registering his establishment, an Employer can log in with his Username. There is an option for 'Online Registration of Establishment' under the 'Services' section. Proceed after reading the instruction handbook.
EPFO Password Reset
If you have forgotten your EPF login password, you can reset it by following the instructions below

Go to the EPFO/UAN member e-Sewa Portal and select the 'Forgot Password' option

Validate with the captcha provided your Universal Account Number (UAN)

Now that you've verified your registered cellphone number, you'll receive an OTP

Your registered mobile number should have sent you an OTP. Please enter it here. Afterward, you will be sent to the password reset page

After entering the new password, press the 'Confirm' button
How to Register a Mobile Number in an EPF Account
When you receive a UAN, you must activate it by entering the EPFO member portal. To activate your UAN, complete the procedures below:
Visit the EPFO Member Portal

Select 'Activate UAN'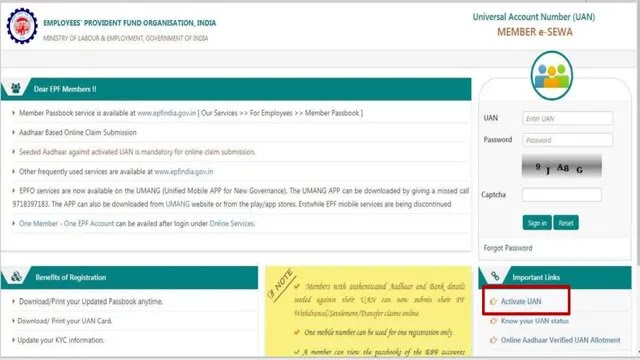 When registering your UAN and your Aadhaar Number you must also enter your name and date of birth, as well as your mobile number and the captcha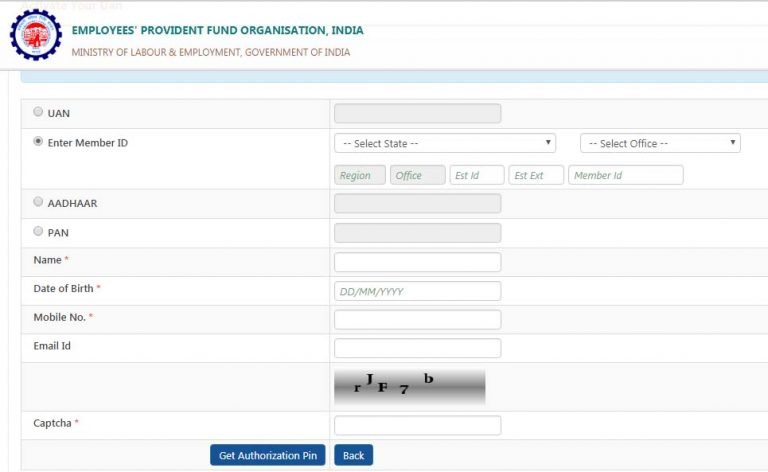 Enter your PIN and then click 'Submit'

Your cell phone number will receive an OTP

Once you've entered the OTP, your UAN will be connected to your EPF account.
EPF members can now quickly reset their UAN password online at the UAN member portal if they have misplaced their mobile numbers or had their mobile phones cancelled. You can find a step-by-step tutorial for resetting your UAN password online without a registered mobile number right here.
Mobile EPF Services
An EPF member can access a variety of services online, via SMS, or through the Umang app. SMS can be used to access the following EPF services:
Your UAN and its status (Active or inactive)

EPF Specifications

EPF/PF Balance

EPF transfer/withdrawal status

Last contribution bank account, PAN, and Aadhaar linkage status

OTP authentication service.
Use Vakilsearch's EPF calculator to find out how much money you have left in your EPF account before you retire.
How to Change Your EPF Account Mobile Number Online
EPFO will contact you by SMS once your cell phone number is linked to your UAN. This number may also be modified online in a few simple steps:
The EPFO member website enables you to access your account

In the 'Manage' area, click on 'Contact Details.'

When you select the 'Change Mobile No.' option, a new area displays in which you must input the new mobile number twice. Now, select 'Obtain Authorization Pin.'

An OTP is delivered to this number

Enter this OTP in the area provided and press the 'Submit' button. The EPFO portal will be updated with your new cell phone number
If You've Forgotten Your Password, Here's How to Acquire a New One
To access your EPF account via the UAN, you may not have your old phone number or have forgotten your password. In the event that you have forgotten your password, please follow the steps below to update both your cell phone number and your password
Select 'Forgot Password' on the EPF Member Portal – https://passbook.epfindia.gov.in/MemberPassBook/Login

Click 'Submit' after you've entered your UAN and captcha

If you want to alter your already registered mobile number, select 'No.'

Enter your name, date of birth, and gender, and then click the 'Verify' button

Select Aadhaar/PAN to validate your information and enter your Aadhaar/PAN. Now, to authenticate your request, click the 'Verify' button

After the information has been checked, you will be prompted to input your new cell phone number and click the 'Get OTP' button

A one-time password will be sent to your new mobile number. Enter the OTP and then click 'Verify'

After the OTP has been validated, the new password will be requested

After you've entered your new password twice, click 'Submit.' Your password will be successfully changed, and your new cell phone number will be updated in the system at the same time
Contact Vakilsearch if you have any additional questions or concerns about Provident Fund and EPF password reset.
Read More :