Are you looking to make a withdrawal from your PF amount? EPF members can now submit their PF withdrawal/settlement/transfer claims online. Here is a compilation of all the information you will need to go make a successful claim.
An EPF (employee provident fund) withdrawal claim is usually initiated by an employee when they are not employed or when they have retired. You can make a PF claim request online through the EPF withdrawal form. After one month of unemployment, you can withdraw 75% of the amount outstanding in your EPF account, and the remaining 25% can be claimed after two months. It is important to note that you can only execute an online withdrawal claim if your Aadhaar is linked to your UAN (universal account number).
To file the application for the withdrawal claim online, you must have-
An existing UAN number.

Bank information linked to UAN.

PAN and Aadhar details seeded into the EPF database.
Eligibility Criteria for EPF Withdrawal
Generally, money from an EPF account can be taken out only after retirement.

EPFO allows early withdrawal only after the person has crossed 55 years of age.
EPFO permits withdrawal of 90% only 1 year before retirement.

Further, partial withdrawal of EPF is allowed only in case of a medical emergency, for house property development or for higher education purposes.

One can withdraw EPF corpus if he or she is facing unemployment even before retirement due to lockdown or retrenchment. Employees do not need to wait for permission from their company to make an EPF claim.

Additionally, as per the current rule, only 75% of the corpus can be taken after 1 month of unemployment.

If an employee withdraws their PF amount before 5 years of constant service, they are required to file ITR Forms 2 and 3.
Click here to know how to apply pf online.
EPF Withdrawal Form/Composite Claim Form
Employees can use the composite claim Form to get a partial withdrawal or final compensation claim. Earlier, Form 31, Form 19, and Form 10C were required to withdraw the PF amount. Now, it has been replaced by the composite claim form. Moreover, the submission of this application does not need the attestation of the company.
The PF withdrawal form that is to be used will vary depending on your age, the purpose of the claim and employment status. To find out which form is suitable for your claim, get in touch with our team.
Documents Required for PF Withdrawal Online
The following documents are required while applying for PF withdrawal-
Two revenue stamps

Composite claim Form

Identity proof

Address proof

Further, bank account report (bank account should be in the name of the PF holder)

One blank and cancelled cheque with noticeable IFSC code and account number

Personal information such as date of birth, father's name, etc. which matches identity proof.
Use Vakilsearch's EPF Calculator to find out how much money you have left in your EPF account before you retire.
EPF Withdrawal Online Procedure
Follow the steps provided below to choose the EPF withdrawal form and make a claim online:
Step 1: Sign in to the UAN Member Portal with your UAN and Password.

Step 2: From the first menu bar, choose the 'Online Services' tab and choose 'Claim (Form – 31, 19 & 10C)' from the drop-down menu: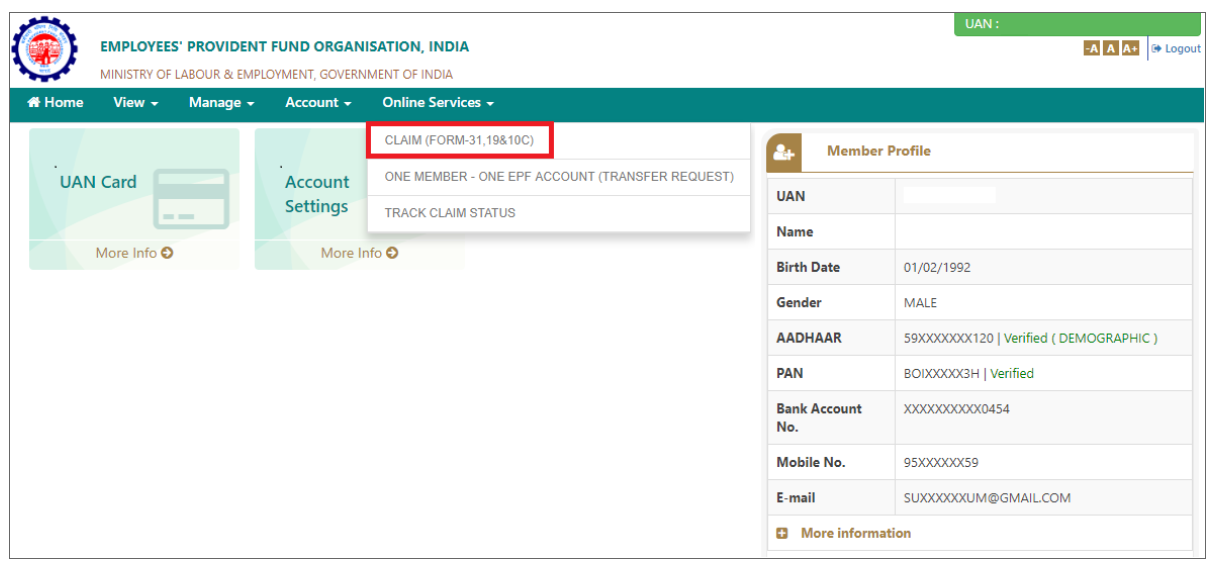 Step 3: Member information will be presented on the screen. Additionally, enter the last 4 digits of your bank account that is connected to your company and click on 'Verify'.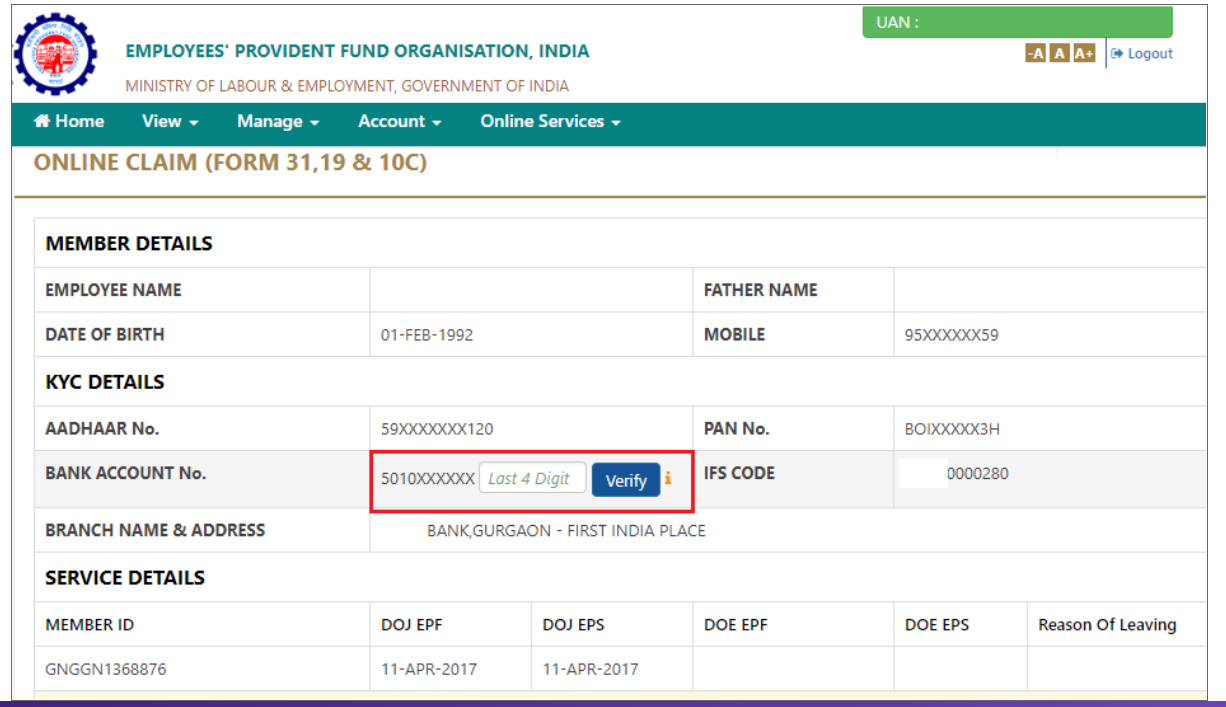 Step 4: Further, click on 'Yes' to agree to the terms and conditions of the certificate of undertaking.

Step 5: Now click on the 'Proceed for Online Claim' option.
Step 6: Choose 'PF Advance (Form 31) to claim your provident fund amount.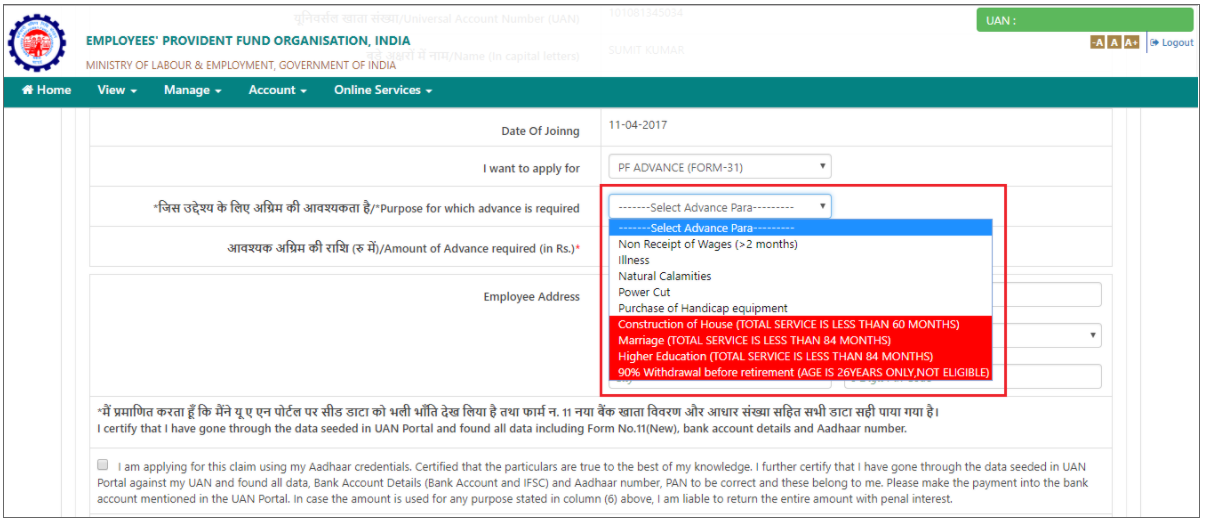 Step 7: A fresh section of the application will open, wherein you have to input the purpose for which advance is required, the amount needed and your residential address. It is also worth mentioning that all those options for which a person is not eligible to withdraw from PF will be marked in red
Step 8: Click on certification and submit your request
Step 9: You may have to present scanned documents based on the purpose you have chosen in the prior form
Step 10: Your company has to confirm your withdrawal application after which the payment will be withdrawn from your EPF account and deposited in the bank account specified in the withdrawal form.
SMS notification will also be sent to your mobile number enrolled with EPFO. Once the claim is processed, the amount will be transferred to your bank account. ​ It takes 15-20 working days for the PF online withdrawal process to be completed.
Also, Read: