In this article, we will be exploring the In & Out of E-way Bill System generation under GST.
What Is an E-way Bill?
An eWay Bill is an Electronic Way Bill for the movement of goods. GST-registered persons cannot transport goods over ₹50,000 (single invoice/bill/delivery challan) without an e-way bill generated on ewaybillgst.gov.in. 
Additionally, Eway bills can be generated or canceled via SMS, Android Apps, or APIs. Validate the GSTIN with the GST search tool. A unique E-way Bill Number (EBN) is assigned to an E Way bill and is available to the supplier, recipient, and transporter.
Who Should Generate an eWay Bill?
In the event of the movement of goods in a vehicle/conveyance, an E-Way Bill will be generated (either for each invoice or for all invoices in the vehicle/conveyance) 
Referring to a supply

In other words, for reasons other than supply

An unregistered person supplied the goods
A supply may be either of the following:
The supply of something for consideration (payment)

Non-business supply for consideration (payment)
A supply without consideration (without payment)Usually, a 'supply' means:
The sale of goods and the payment made for them

Transfers between branches, for instance

Exchanging goods for money instead of paying with goods is known as bartering/exchanging
E-Way Bills must be generated on the common portal for these movements.
Eway bills must be generated even if the value of the consignment is less than ₹50,000 for certain specified goods:
Principal/registered job-worker movement of goods between states

Handicraft goods transported interstate by a dealer are exempt from GST
When Should E-way Bill Be Issued?
As per Rule 138 of the CGST Rules, 2017, the e-Waybill system is provided, and in this context, it is essential to note that "information shall be provided prior to the commencement of goods movement" and "is to be issued regardless of whether the movement is related to a supply or not.".
GST registered members: Need to generate an e-Way bill in the following situations:
In the course of making a supply, a supplier

In the event of a return

An inward supply from an unregistered source.
Cases When eWay Bill Is Not Required
The government introduced e-way bills to track the movement of goods and prevent tax evasion. A person must issue an eway bill with GST registration if the value of the consignment exceeds ₹50,000. As outlined in the current article, E Way bills are only sometimes required.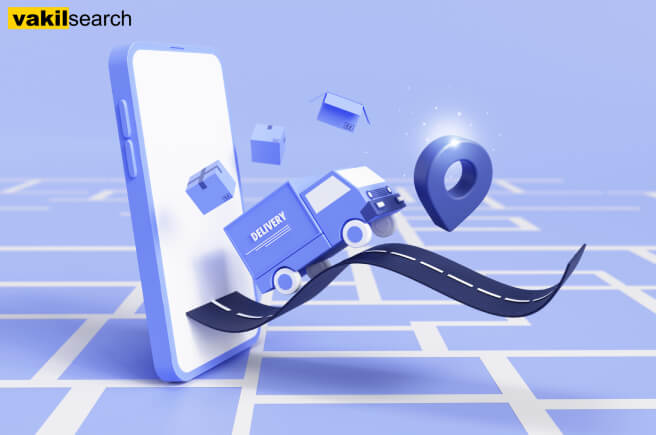 State-wise Threshold Limits for Eway Bills
State
Intra State Limit (₹)
Inter-State Limit (₹)

Punjab

₹

1,00,000

₹

50,000

Tamil Nadu 

₹

1,00,000

₹

50,000

Maharashtra 

₹

1,00,000

₹

50,000

Bihar 

₹

1,00,000

₹

50,000

Rajasthan 

₹

1,00,000

₹

50,000

West Bengal

₹

1,00,000

₹

50,000

Jharkhand

₹

1,00,000

₹

50,000

Telangana

₹

50,000

₹

50,000

Tripura

₹

50,000

₹

50,000

Odisha

₹

50,000

₹

50,000

Uttar Pradesh

₹

50,000

₹

50,000

Uttarakhand

₹

50,000

₹

50,000

Sikkim 

₹

50,000

₹

50,000

Nagaland

₹

50,000

₹

50,000

Mizoram 

₹

50,000

₹

50,000

Madhya Pradesh

₹

50,000

₹

50,000

Kerela

₹

50,000

₹

50,000

Himachal Pradesh

₹

50,000

₹

50,000

Karnataka

₹

50,000

₹

50,000

Haryana

₹

50,000

₹

50,000

Chhattisgarh

₹

50,000

₹

50,000

Assam

₹

50,000

₹

50,000

Arunachal Pradesh

₹

50,000

₹

50,000

Gujarat

₹

50,000

₹

50,000

Goa

₹

50,000

₹

50,000
Documents Required to Generate WayBill
Consignment invoice/bill of supply/challan

Road transport – Transporter ID or Vehicle number

Transport by rail, air, or ship – Transporter ID, Transport document number, and date
How to Generate E-way Bill on Portal @ewaybillgst.gov.in
Generate e-Way Bill online at

e-waybill. nic. in

You'll need to enter your username and password. The E-way bill will be successfully logged in.

Upon successful login, the following screen appears

The left panel of the screen will display the options for cancelling, rejecting, etc. On the Waybill system.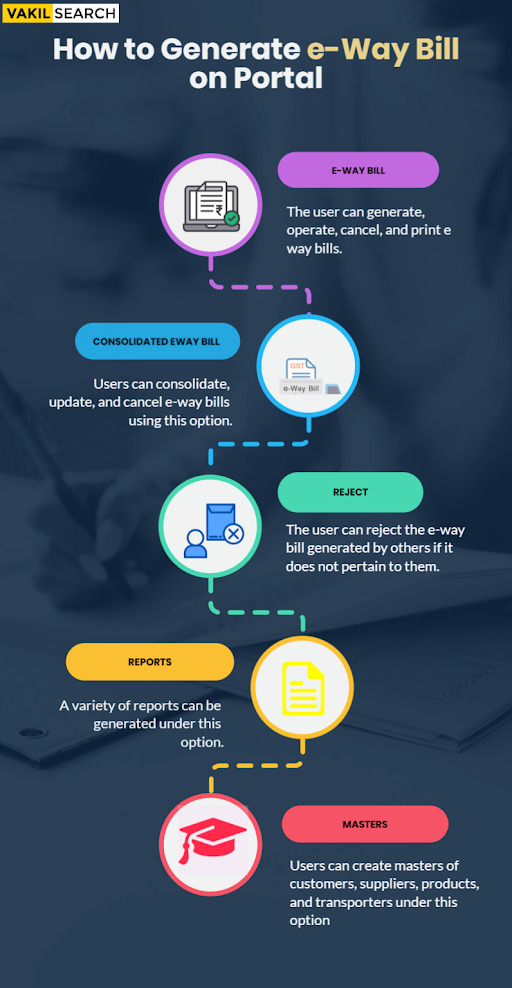 E-way bill –

The user can generate, operate, cancel, and print e way bills.

Consolidated eWay bill

– Users can consolidate, update, and cancel e-way bills using this option.

Reject

– The user can reject the e-way bill generated by others if it does not pertain to them.

Reports

– A variety of reports can be generated under this option.

Masters

– Users can create masters of customers, suppliers, products, and transporters under this option

User Management

– Sub-users can be created, modified, and frozen under this option.

Registration

– This option allows users to register for SMS, Android apps, and APIs.
The right panel of the screen displays alerts and notifications.
How to Generate Bulk eWay Bills on the Way Bill System?
Download EWB tools such as EWB excel file, EWB JSON template, EWB bulk converter tool, and Vehicle no update JSON preparation by following the below link.

Select 'Tools' –> Click 'Bulk Generation Tools' on the homepage.

To download, click on the desired file.
Mobile e-way bills can be generated using a mobile phone. E-way bills are typically generated by small taxpayers who do not have access to a computer and an internet connection. e-Way bill generation by SMS is ideal for entities with a limited volume of transactions since it would be prudent to use other methods if the volume of transactions were greater. The SMS e-way bill generation facility can also be used by taxpayers in the event of an emergency, such as during the night or while on the road. The following are three major activities associated with e-way bill operation through SMS:
Prepare the E-way bill
Details of the vehicle need to be updated
eWay bill cancellation
How to Verify eWay Bill?
Step 1:

The officer empowered verifies documents and/or inspects goods

Step 2:

Documents related to the goods and conveyance must be produced by the person in charge

Step 3: The officer in charge will verify these documents; if there are no discrepancies, the conveyance will continue.
e-Way Bill System FAQs
What is the GST e-Way Bill?
E-way bills are an effective tool to track the movement of goods and check tax evasion. Their validity depends on the distance the goods will travel.
What is the validity of the eWay Bill?
The distance the products must travel determines how long an e-way bill is valid. The eWay bill will be valid for one day from the relevant date for distances under 100 kilometers. The validity will increase by one day from the pertinent date for every 100 Km after that.
When to extend the validity of the E Way Bill?
Only the active transporter can extend the validity of EWB. The generator can update if no transporter is assigned. EWB's validity may be maintained for an additional 8 hours before or 8 hours after its original expiration time.
What should I do if the PIN Code is shown as invalid?
You will get a message reading Invalid Pincode if the PIN code is absent from the file downloaded from the India Post website. If the Pincode is associated with another city, the name of that city is retrieved and shown. On the India Post website, you may view Pincode data.
When should I use the Multi-Vehicle option?
Therefore, the multi-vehicle option will be considered after the products associated with one consignment are transported in more than one vehicle following trans-shipment. This option is accessible at the location of the trans-shipment rather than the supplier's location.
Can the E Way Bill be generated for consignments of value less than ₹50,000?
When products worth more than ₹50,000 are moved to or from a registered individual, an E-way bill is required to be created. Even if the value of the items is less than ₹ 50,000, the transporter or a registered person may elect to create and carry an e-way bill.
What happens if multiple consignments are transported in one vehicle?
Prior to the commencement of goods transport, the transporter must prepare a consolidated eWay bill by indicating the serial number of each e-way bill on the common.
What are the modes of e-Way Bill Generation?
The modes are as follows: Web-Based System, SMS-Based Facility, Android App, Bulk Generation Facility, Site-to-Site Integration, GSP (Goods and Services Tax Suvidha Provider)
What should be done if the transportation vehicle breaks down?
The eway bill system allows you to update the vehicle number on the document. This option is appropriate in the following situations: The Vehicle Number was not entered when the e-Way Bill OR was generated. Due to a breakdown or transshipment, the goods are transferred to another vehicle/conveyance during transit.
Helpful Links: