Are you wondering what the documents required for incorporating a Private Limited company are? Don't worry, because we got you covered in this article. Keep reading to find out.
A new process of Classification and Registration of private enterprises has started from 1st July 2020. An enterprise for this purpose will be known as Udyam and its Registration Process will be known as 'Udyam Registration'. The Ministry has expressed confidence that this process will be extremely simple, seamless and entrepreneur-friendly.
Company registration with the MCA is one of the most crucial steps to give your business a valid legal status. If you think the process is tedious and requires an extensive amount of documentation, you may be right. But with the help of the experts at Vakilsearch documents required for incorporating your private limited company can be collected and compiled quickly and with minimum effort from your end.
Let's look at the detail here:
A private limited company is otherwise known as limited or Ltd. is a kind of organisation that needs a minimum of two members and a maximum of 200 individuals to register. Likewise, as the name proposes, it can't raise capital from the public or third-party people in general, which means the organisation can't freely give up its ownership to anyone and everyone. Currently, setting up a private limited company does not require any minimum paid-up capital.  
Documents Required by Indian Nationals to Register their Private Limited Company:
Indian directors and shareholders looking to incorporate their company must locate the following documents and papers: 
PAN card

Copy of Aadhaar card/driver's licence/voter's identity card 

Address proof like telephone bill/ water bill/ bank statement or bank passbook

Passport size photographs
Note: All the above-mentioned documents must be in English, and self-attested. The bank statement in question should be in the name of the applicant and not more than 2 months old. 
Documents Required by Foreign nationals to Register their Private Limited Company:
Foreign directors and shareholders looking to incorporate their company must submit the following papers: 
Passport

Residence card

Driver's licence 

A government-issued form of identification containing the address

Residential proof like bank statement/electricity bill/mobile bill
Note: All the above-mentioned documents must be in English and be self-attested. In case, if they are in any foreign language, the same must be officially translated and notarized or apostilled. 
Registered Office Proof for Foreign nationals:
Copy of the title registration, if the premise is an owned-property

Copy of the notarized lease document or rent agreement in the name of the company

Rent receipt copy

Proof of evidence – electricity bill or telephone bill

No objection certificate from the landlord. 
Note – An NOC is a declaration from the respective owner of the property that it can be used as the registered office by a registered company. Moreover, the bills and receipts produced must not be older than two months. Furthermore, they must be in the name of the owner. 
All foreign nationals and NRIs are also required to produce a duplicate copy of their visa. Furthermore, for location evidence, any government-issued photo identity and address proof can be submitted. 
Notwithstanding the character and addressing evidence, their supporters should likewise submit confirmation of living arrangements. Further, confirmation of home can be bank articulation or power bill or phone or a versatile bill that is not older than two months.
In event of remote nationals, verification of living arrangements must be furnished alongside confirmation of nationality.
Shareholding by Organisation or Corporate
If another organisation or corporate or legitimate entity is buying into the ownership of an organisation, at that point, accompanying reports relating to the parent organisation must be recorded: 
Corporate Identity Number of the company

GLN (global location number) if there is one

Name of the body corporate

Listed office address or principle place of business

Email id
Notwithstanding the above archives, the body corporate must also give an attested duplicate of a board resolution approving one of the officers of the company to buy into the notice of the relationship of the proposed organisation and to make an interest in the proposed organisation. 
The board resolution must outline the number of offers proposed to the bought in by the body corporate, the name, address, and assignment of the individual approved to buy into the memorandum.
Shareholding by Foreign Company
In the event of shareholding by an outside organisation, despite the previous records, a duplicate of the authentication of consolidation of the remote organisation and confirmation of the outside organisation's listed office must be submitted.
To know more, take a look at the pictorial representation of the benefits of company incorporation: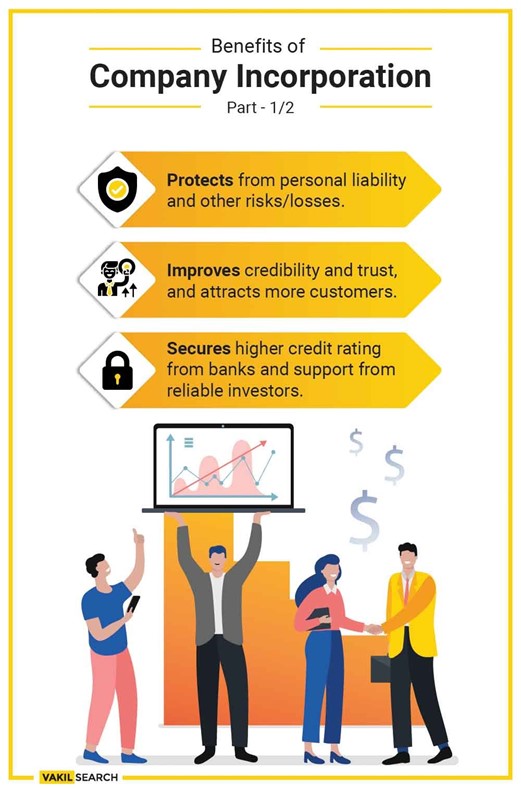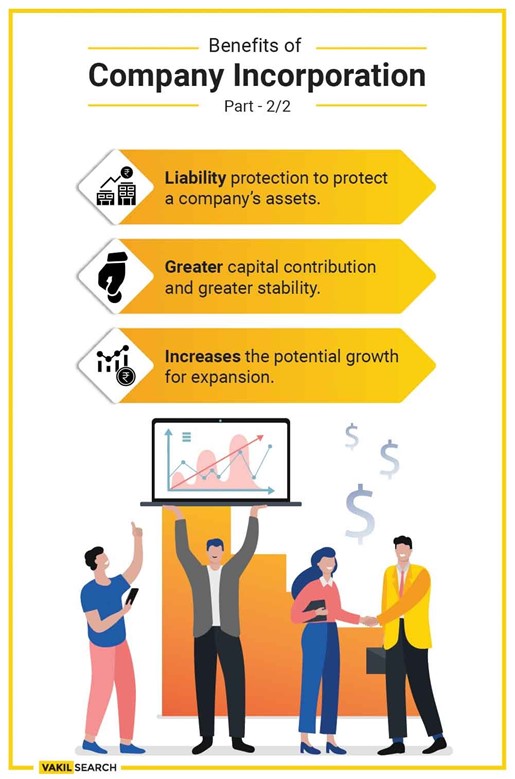 Conclusion
According to Section 11 of the Companies Act, 2013 every public limited company and the private limited company requires an incorporation certificate. Hence don't forget to apply for a certificate to start your business. 
So what are you waiting for and go ahead and apply for your registration? Get in touch with our experts right away!