A savings and social security programme for workers in India is called a provident fund. Companies who have 20 or more employees must register for PF and pay PF contributions by law. The Unified Portal now houses all of the EPFO's necessary services for both employers and employees. Employees with UANs can access the Unified Portal to monitor the status of their PF claims, view their PF balance, and submit all PF-forms. This article examines the PF claim form 19 that employees without UAN can utilise.
Employee Provident Fund is a retirement benefit saving scheme for the workforce engaged in a corporate set-up or organised sector in India. The Employees' Provident Fund Organisation is one of the main savings platforms for all employees working in the government, public, or private sector. Get to know more on form 19.
The benefit of Provident Fund account is extended to all types of industries which employ 20 or more persons. This social security scheme is formed under the Employees' Provident Fund & Miscellaneous Provisions Act, 1952. Both employee and employer should contribute part of the income during the service period and the employee can withdraw either partially or fully at different circumstances as prescribed under this act.
The member passbook includes information about transactions and the amount of contributions. From this page, you can also get a soft copy of your Provident Fund passbook. The UAN must be activated on the site for first-time users. After activation, a member can use a registered password to access their account online. The easiest way to verify the Provident Fund balance using UAN is with this procedure. Employees frequently don't know what their UAN is or the UAN is inactive. Employees can verify their Provident Fund balance in certain situations by either making a missed call or sending an SMS.
Form 19 for Provident Fund Claims – Employees Without UAN
The Provident Fund Claim Form 19 is only to employees without UAN. For all employees who made Provident Fund contributions after 2014, the EPFO has issued UANs. Employees who have only made Provident Fund contributions prior to 2014 can go to the closest EPFO office to get a UAN.
Without a UAN, Provident Fund Claim Form 19 can be submitted by providing simply the Provident Fund Account Number. However, it is advised that all employees who have PF accounts combine them by establishing UAN.
Attestation by the Employer
Employer Provident Fund claim form 19 must have the employer's attestation. To authenticate the employee's bank account, which will be used to conduct PF withdrawals, the employee must also produce a copy of a cancelled check or an attested copy of the first page of their bank passbook. The form can be submitted at the closest EPFO office once it has been completed and signed & approved by the employee and employer.
TDS on Withdrawing Provident Fund
The employee can monitor the progress of their Provident Fund claim after submitting their form using the PF website, UMANG app, or missed call feature. TDS will be deducted from the Provident Fund withdrawal at a rate of 10 percent if the member submits a PAN or 34.60 percent if no PAN is submitted if the service is less than 5 years. If the remaining balance is less than Rs. 50,000, no TDS would be taken.
Use Vakilsearch`s EPF calculator to determine out how a whole lot cash might be gathered to your EPF account whilst you retire.
List of EPFO Forms 
There are various forms available under the Employee Provident Fund Organisation (EPFO) Scheme.
Here is the list of forms:
Form 2:
Nomination for the Employee Provident Fund (EPF) and Employee Pension Scheme (EPS)
Form 5:
Registering new employees under EPF and EPS
Form 5 (IF):
Claim form for Employees' Deposit Linked Insurance (EDLI)
Form 10C:
EPS Withdrawal form
Form 10D:
Claiming monthly pension after retirement
Form 11:
Automatic transfer of EPF fund.
Form 13
:
Transfer of EPF Account
Form 14:
For LIC policy payment
Form 15G:
Saving TDS of any interest that is generated from the Employee Provident Fund.
Form 19:
EPF final settlement
Form 20:
Provident Fund settlement in case of employee's death to the nominee
Form 31:
EPF Partial Withdrawal
Every employee has the option to withdraw PF amount either through online or offline mode. To claim the EPF amount through online mode by submitting a request at the UAN Member Portal.
With Form 19, a member can claim (a) the final settlement of EPF accounts or (b) Pension withdrawal benefits or (c) Provident Fund non-refundable advance The member has an option to choose payment by cheque, Electronic Clearing Service (ECS), etc.
To withdraw EPF with Form 19, the employee needs to be unemployed for a period of at least 2 months.
Details of EPF Claim Form 19:
  EPF member registration name as per payslip

  Father's Name or Husband's Name (In case of a married woman)

  Date of Birth

  Name and Address of Factory / Establishment

  (a) Provident Fund Account Number; (b) UAN Number

  Date of Joining the Establishment

  Date of leaving Service

  Reason for leaving service
Service terminated on account of (a) ill-health of member (b) Contraction/Discontraction of employer's business or (c) Other cause beyond the control of the member

Personal Reasons
  Permanent Account Number (PAN)
Whether submitting Form 15G/15H, if applicable (Yes/No)
Please enclose two copies of Form No. 15G/15H, if applicable
(Only in case of service less than 5 years)
Full Postal Address

Mode of Payment
For Postal money order at my cost

By Account Payee Cheque/Electronic Mode of Payment
Please attach a copy of the cancelled cheque/Attested copy of the first page of the passbook.
Saving Bank Account No.

Name of the Bank

Address of the Branch

IFSC Code
The member hereby declares that he has not been employed for two months (Yes/No) Certified that particulars are true to the best of my knowledge
The form should be attested with the member signature or thumb impression along with Employer's Signature; Designation & Seat of the Employer. As mentioned above, the employee has an option to claim Provident Fund through Online mode. 
Conditions for Filling Out Form 19 Online
At the EPF member portal, you must first activate your UAN

Your bank account and PAN must be connected to UAN by law

Additionally, UAN should be connected to your cell phone

Form 19 won't be seen in your withdrawal form if you're not qualified for final settlement

However, you will also discover Form 10C if Form 19 is an option.
EPF through Form 19 online
Here is the step-by-step procedure to fill out Form 19 Online:
Step 1:
Visit: https://unifiedportal-mem.epfindia.gov.in/memberinterface/
Step 2:
Login into the UAN portal – Enter UAN member, Password & Captcha Code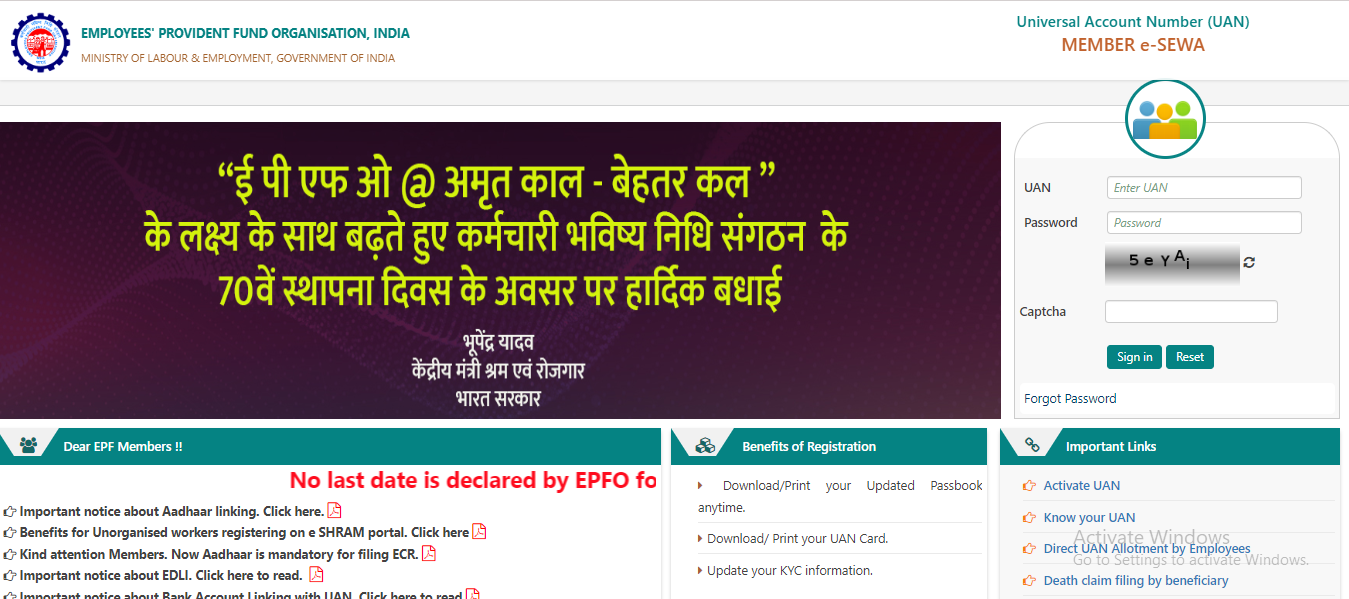 Step 3:
Click on the tab "Online Services" and select Claim FORM 31, 19 &10C) from the drop-down menu. You will be redirected to the new screen with pre-filled data.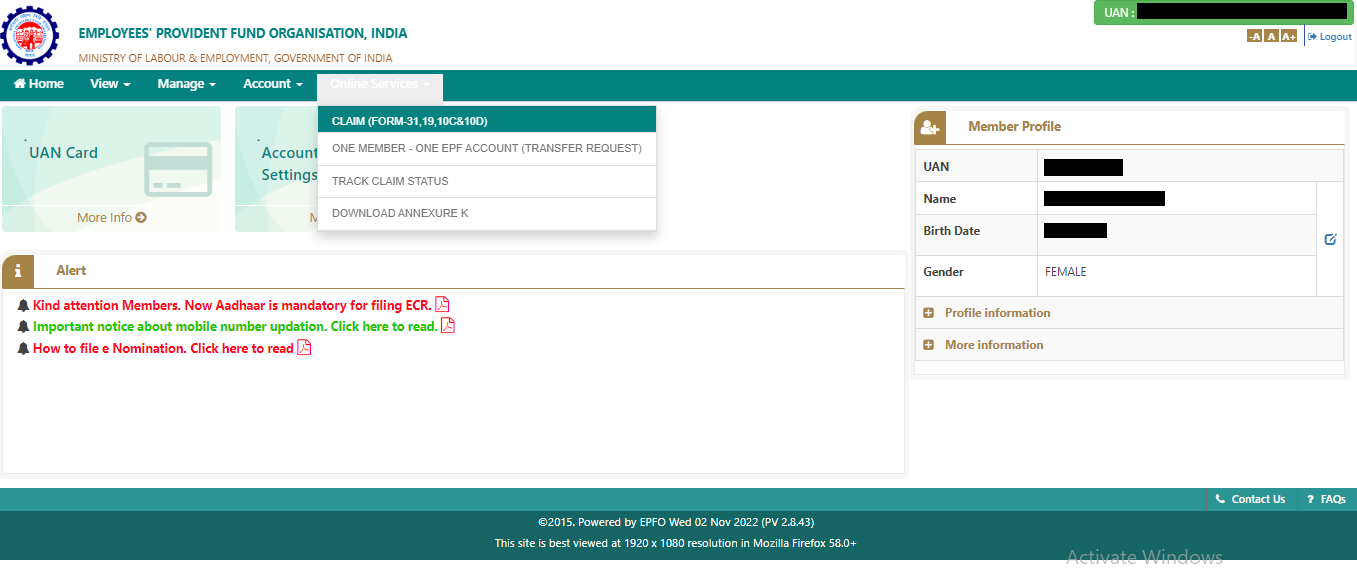 Step 4: 
Under the KYC details section, enter the last 4-digit of the Bank Account No. and click on the "Verify" button.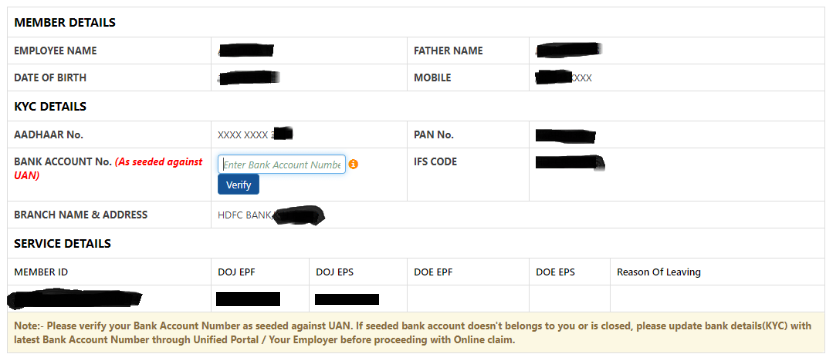 Step 5:
You will find a pop-up – Certification of Undertaking. Click on the "Yes" button, if you have agreed to receive the Provident Fund claim amount to the bank account mentioned in the screen.

Step 6
:
In the next screen, you need to choose the claim form type: Provident Fund Withdrawal/ Provident Fund Advance/ Provident Fund Withdrawal.
You can do that by selecting the applicable drop-down menu – I want to apply for.
Step 7:
After you select online Provident Fund withdrawal FORM 19, the section expands. Click on the check-box for Disclaimer and click on "Get Aadhaar OTP".
Step 8
:
Enter the OTP sent to your mobile number in the given blank and submit the form.
Step 9:
After successful submission within 15-20 days, Provident Fund withdrawal amount will be deposited to your bank account linked with UAN.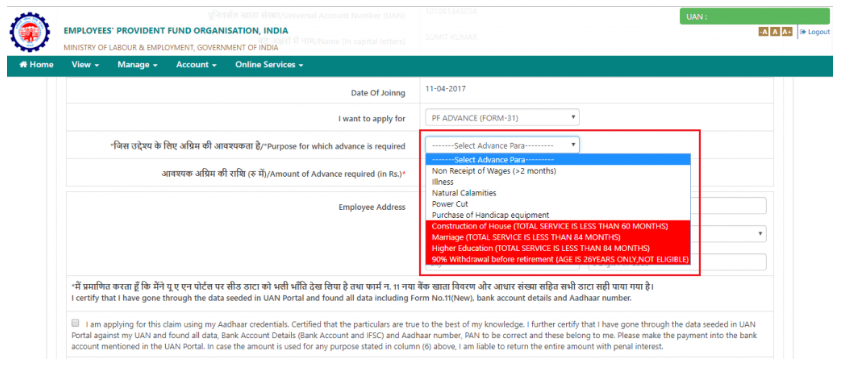 Conclusion:
You are eligible to receive the full settlement from your Provident Fund account if you have retired or quit your work. There are, however, some guidelines and limitations. If you feel it is hard to understand the terms and conditions of EPF withdrawal, and more, all you have to do is get the help of experts from Vakilsearch, India's best legal service provider, who will guide you and help you to submit your claim in a hassle free way!
Read more,