The Employee Retirement Income Security Act (Employee Provident Fund Organisation) EPFO is a non-constitutional agency that encourages employees to save for their retirement through the Employee Retirement Income Security Act (ERISA).
The Ministry of Labour and Employment of the Government of India is in charge of the 1951-founded organisation. The organisation's programmes are accessible to both Indian and international employees (from countries with whom the EPFO has signed bilateral agreements). Read this blog to know how to check pf balance without registered mobile number.
Highlights of the Union Budget for 2021
As a result of this, your retirement savings will suffer:
Unit Linked Insurance Plans (ULIPs) and Provident Funds (PFs) have been limited to a tax-free return of ₹2.5 lakh each in the Union Budget 2021

The employer's contribution to PF had previously been limited at ₹7.5. Contributions over ₹2.5 lakh are now subject to taxation when the PF money is withdrawn

Previously, the maturity amount was not taxed if you paid premiums equal to or less than 10% of the total insurance cover. However, the government is now taxing any amount beyond  ₹2.5 lakh.
EPFO's Mission
The following are the EPFO's key goals:
In order to prevent several EPF accounts being used by the same employee.

Compliance should be made simple

On a regular basis, check to see if organisations are adhering to all of the rules and regulations put forth by the EPFO

To assure the safety and security of internet services and to enhance their infrastructure

To make it simple for members to access their online accounts

From 20 days to three days, claim settlements will be shortened

Encouragement and promotion of voluntary behaviour
United Identification Number (UAN)
Members of the Employees' Provident Fund (EPF) can access their online PF accounts and execute duties such as EPF withdrawals and EPF balance checks. Using the Universal Account Number, the EPFO member site can be accessed effortlessly (UAN).
Members are given a unique 12-digit number by EPFO, which they can use to identify themselves. Even if an employee leaves one company and joins another, the employee's UAN will remain the same. An employee's UAN will be connected to a new employee identification number (EIDN) whenever they move jobs. To use the online services, employees must first activate their UAN.
Your UAN will be provided to you by your place of business. If you are unable to do so, you can use your member ID to log into the UAN portal (https://unifiedportal-mem.epfindia.gov.in/memberinterface/) and locate the UAN.
EPFO-Administered Plans
The following are some of the EPFO's different programmes:
Scheme for Employees' Provident Funds (EPF)

Employee Retirement Plan of 1995 (EPS)

Scheme of Deposit Insurance for Employees, enacted in 1976 (EDLI)
Know more about : PF Registration.
PF is Something to Be Familiar With
An employees' provident fund is a government-managed retirement savings scheme for workers. Each month, employees contribute a percentage of their pay to a retirement fund. At the time of retirement, the goal is to get a lump sum with interest. Providing funds are regulated and managed by the Employees' Provident Fund Organisation, or EPFO, in India.
There will be a digital EPF member passbook made available to every EPFO member. An employee's PF account balance, as well as the monthly contributions from both parties, can be found in this passbook. You can now check your EPF account balance both online and offline.
Who is Entitled to a Pension?
Employees who earn up to ₹15,000 per month are eligible. However, the majority of Indian companies integrate it in their pay plans for all employees. Your company may allow you to forgo a greater income in the beginning if you're willing to work hard for your money. If you choose EPF, you can't change your mind about it while you're still employed there.
Let's Get Into the Nitty Gritty
Employees are required to contribute 12% of their basic pay each month, which is deposited into their bank account at the end of the month. Typically, the employer contributes a matching contribution. Provident fund contributions are 3.7%, and pension fund contributions are 8.33%.
Use Vakilsearch`s EPF calculator to decide out how an entire lot coins is probably collected for your EPF account even as you retire.
Your employer makes the initial contribution to your retirement account. With a Universal Account Number, or UAN, you can use it online. During a job change, it is possible to check your account balance and transfer your account. The EPFO-issued UAN in PF Account is used mostly to monitor PF balances and PF claims.
The government usually sets the interest rate on the pooled funds. For the 2019-20 fiscal year, EPFO cut the interest rate on employee provident funds from 8.65% to 8.50% in March 2020. The interest rate will remain at 8.50% for the 2020-21 fiscal year.
Provident Fund Withdrawals Are Available in Two Ways
Retirement at 58 years old is the first step. In this manner, you can ask for a PF withdrawal using EPF form 15g from your employer and receive your whole PF amount. The PF corpus can be withdrawn

 

in full after tax for those who have been unemployed for a period of at least two months

It's also possible to take out a portion of your corpus before retirement age in the event of life-changing events, like getting married or buying a house or having a medical emergency. Depending on whether the scenario applies, you will be allowed to remove a different portion of the corpus
More About Provident Fund
According to Finance Minister Nirmala Sitharaman, interest generated on employees' annual contributions above ₹2.5 lakh to their PF would be taxed in the 2021-22 Union BudgetThe Central Board of Direct Taxes issued a statement regarding this announcement on August 31. For circumstances where just employees contribute to the PF, rather than the employer, the threshold is ₹5 lakh.
Non-taxed and taxed funds will be available in each EPF account. The interest earned on each account will be calculated separately starting in the fiscal years 21 and 22. From April 1, 2022, these new regulations will be in place. Consequently, all contributions up to and including March 31, 2021, are exempt from taxation.
How to Determine the PF Balance Without a Registered Mobile Number?
Given below is the process for how to check my pf balance without registered mobile number:
Step 1: Sign in with your UAN and password to the PF passbook website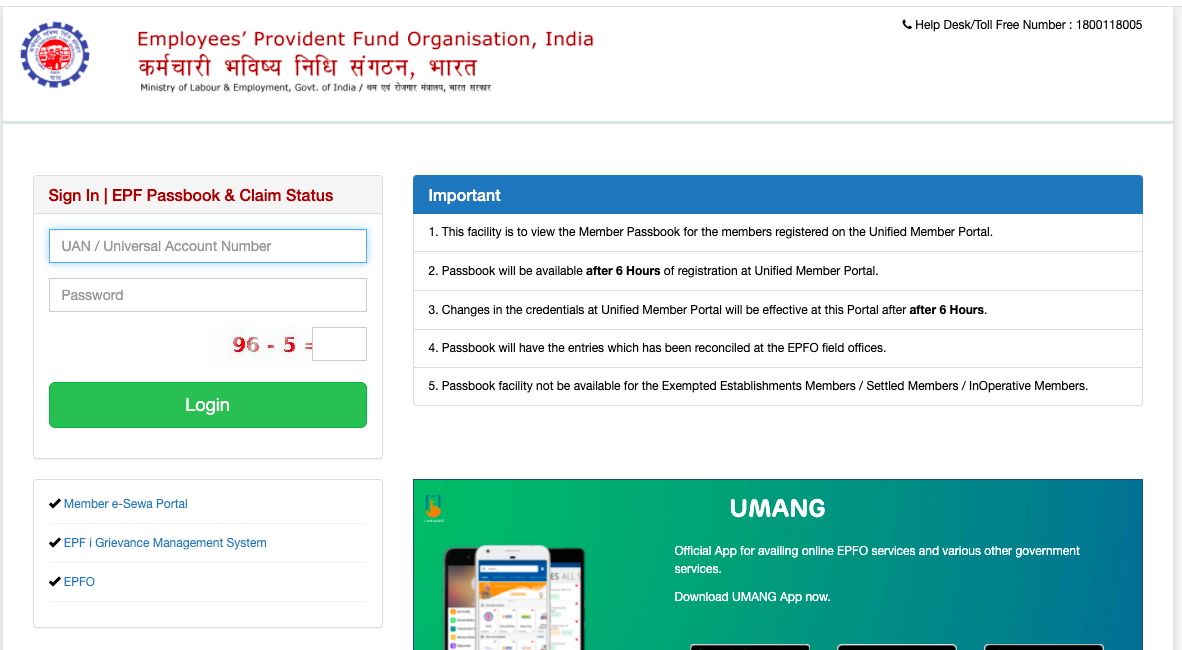 Step 2: Select the PF account for which you'd like to view your PF balance, and then click view PF passbook old
Step 3: You may now view the overall employee balance and employer balance in your PF account, as well as the pension balance in the passbook's last column.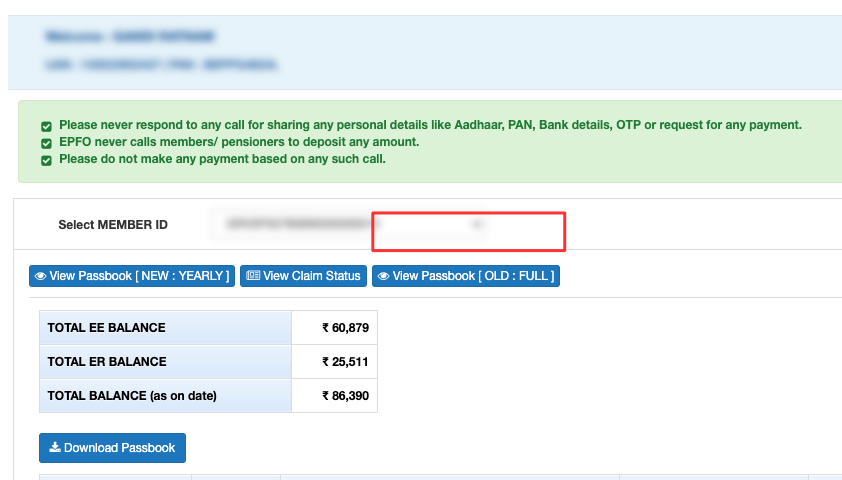 Step 4: To display yearly PF contributions, select the view passbook (new: yearly) option
How to Check PF Balance in the Absence of Mobile Number and UAN Password?
PF balance check without UAN number and without mobile number can be done as follows:
If you forget your UAN password but know your UAN, you can set a new password through the UAN member portal's forgot UAN option
But if you don't even know your UAN, follow the procedures below to locate it
Step 1: Navigate to the UAN member portal – https://unifiedportal-mem.epfindia.gov.in/ and select the option titled 'Know Your UAN.'
Step 2: Enter a mobile number that is not currently associated with any other PF accounts, type the captcha, and click the request OTP button
Step 3: Enter the OTP sent to your mobile device and re-enter the new captcha code before clicking the validate OTP button
Step 4: After validating the OTP, enter your name and date of birth as they appear on your EPF account, and select either Aadhaar or PAN. (that was associated with your PF account)
Step 5: If you selected Aadhar, enter the Aadhar number, or if you selected PAN, enter the PAN number, complete the captcha, and select the option to show my UAN
Now , your UAN will be displayed on the screen; make a note of this number and set a new password for the UAN site, which can also be used to download your PF passbook.
You are just a phone call away from the best in legal services with vakilsearch, and to a team of skilled business consultants and specialists who are well-versed in current schemes.
Also Read: