Birth and death certificates are available to citizens of Telangana upon request at CSC and MeeSeva locations. In order to find out more, read on.
An individual's name, birthplace, birth date, and parent's names are recorded and verified by the government on their official Birth Certificate. Every birth in India must be registered with the appropriate State Government in accordance with the Registration of Births and Deaths Act, 1969, and residents require a birth certificate in order to access different government services. In-depth information about Telangana birth registration and how to apply birth certificate in Telangana is provided here.
What Exactly Is A Birth Certificate?
The act of registering a child's birth is known as birth registration. The birth certificate is proof of a child's identification and existence in the eyes of the law.
It creates a record of the birthplace and parents' identities for legal purposes. A birth certificate is a child's first form of legal identification and may only be obtained via birth registration.
In addition to being a requirement under international law, registering a child's birth is a crucial step in ensuring that all children are afforded the safety and security they deserve, as well as access to essential social services like health care and the legal system. Governments are able to allocate resources better and prioritise regions for development programs like education and vaccination, thanks to the data gathered from birth registration records.
How To Locate A Birth Certificate In Telangana?
First, go to the UBDMIS Telangana homepage, where the following options will become visible:
To take the next step, please provide the following details.

The Registration Number Field Must Be Completed

Enter the registration year here.

If you have a previous registration number, please enter it here.

Date of Birth: Please provide a month and year

Enter Hospital Name

Identify as a man or female

To Designate Your Signature's Standing, Choose You can either sign or not sign.

Identify the child by his or her last name and given name below.

Dad's Last Name, Dad's First Name: Please provide Dad's last name and Dad's first name.

Mother's Last Name, Mother's First Name: Please provide the mother's last name and first name.

Origin: Please enter your country of origin

Location of birth: Please enter the place of birth

Type in your permanent address here.
Comply with the instructions after clicking the Submit button.
Download Birth Certificate Telangana
The information from the baby's birth certificate will now appear on the screen. Verify your application's current status here. Certificates may be downloaded once they are available 
How To Check Birth Certificate Status In Telangana?
You can check the status of the application on the UBDMIS website of Telangana. From the home page, select MeeSeva application status.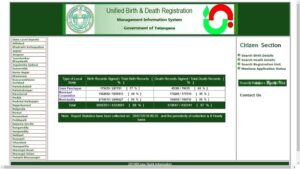 When the applicant enters the MeeSeva application number, the status of the application will be displayed.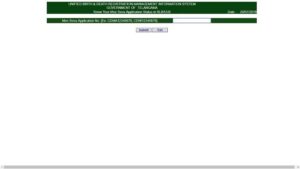 Who Do I Need To Contact To Register My Telangana Birth Certificate?
In India, a person's vital statistics must be recorded in accordance with the provisions of the Registration of Births and Deaths Act, 1969. In accordance with the requirements of this RBD statute, all births must be registered with the appropriate state government within 21 days after the event.
Responsible Department in Telangana for Birth Registration:
Corporation of Greater Hyderabad

Government of Telangana, Office of the Commissioner and Director of Municipal Administration
Late Registration of Birth Certificate
Telangana requires separate application forms for birth certificates obtained after the late registration of birth.
The Value Of A Birth Certificate And How To Apply For One?
For the following reasons, you'll need a copy of your child's birth certificate:
Evidence of eligibility to vote is found on the birth certificate.

This certificate is required for enrollment in educational institutions.

If you want to marry at the age allowed by law, you'll need to provide your birth certificate.

Mandatory for the resolution of all property and inheritance disputes

To qualify for a government-provided pension, social security, or health insurance

Can collect insurance benefits
Getting your child's birth certificate is the next logical step. Be careful to double-check your application for any typos before submitting it. Don't worry if you have questions about creating a birth certificate; just write them below, and we'll do our best to answer them there. In the meanwhile, please spread the word about this fantastic resource and article.
The Telangana Official Who Must Register Birth Certificates?
A birth must be registered with the appropriate authorities within 21 days after the delivery in order to get a birth certificate.

Hospitals, nursing homes, and other medical facilities are required to record any births that occur on their premises.

When a birth occurs at home, the primary caretaker or another close relative must notify the appropriate authorities.
What Do You Need To Register For A Birth Certificate?
The following items are required in addition to the application for a birth certificate in Telangana:
Documentation of the child's delivery from the attending physician or another medical staff member at the birthing facility (Letter from the hospital)

Required parental identification documents

Parent's S.S.C. transcript or birth certificate

Evidence of parental legitimacy: a marriage licence
How Long Will It Take To Receive Your Birth Certificate?
You should anticipate to get your birth certificate within a week after submitting your application form to the Mee Seva of your choice. Feel free to leave a comment below if you have any questions, and we will respond as quickly as possible.
Methodology With Exact Steps Telangana Online Birth Certificate Application Procedures
Here is the process to get a birth certificate in Telangana:
First, hospitals, medical institutions, or the head of the family must submit a fully completed application form and supporting documentation to the relevant meeseva centre in order to register a birth.

The staff at the meeseva centre will scan the necessary paperwork and submit an electronic birth certificate application.

Pay the birth certificate fee; after doing so, you'll get a receipt for your payment as well as a unique identifier for your application.

The applicant must specify how they would want to get their certificate. Certificates are available at the meeseva centre or may be delivered by courier from the GMC headquarters.

If the application is approved, the user will get a text message at the number provided.

If you're picking up your birth certificate from a meeseva centre, it will be ready for pickup the same day; otherwise, it will take five business days from the date of application for a courier service to deliver the certificate.
If You Need To Update Your Birth Certificate, What Do You Need To Do?
First, if the error is at the hospital, you should contact them; otherwise, if the birth occurred at home, you should visit the Meeseva to apply, or else you can do it online also; you may also need the signatures of the gazetted officers from the government hospital or somewhere else and submit it in Meeseva; and once everything is in order, you can get your certificate.
Conclusion
When a kid is born, the first thing that must be done is to get a birth certificate. A birth certificate is an official document that proves a person was born. A birth certificate is required to participate in government-sponsored programs and get government benefits. For example, Beti Bachao, Beti Padhao, Sukanya Samriddhi, and other programs help girls and women succeed in life by removing barriers to their education, such as gaining admission to a university. 
Within 21 days after birth, every birth must be registered with the state government in accordance with the Birth and Deaths Act, 1969. Officials at the Greater Hyderabad Municipal Corporation, the Commissioner's office, and the Director's office of the Government of Telangana's Municipal Administration: https://emunicipal.telangana.gov.in/ are the ones to contact if you want to register your child's birth in Telangana. If you want more info or help related to this topic you may take help from Vakilsearch. They can surely help you a lot. 
Read more,