Bank of Baroda offers different types of accounts to meet your financial goals and secure your future. Read on to know about BOB net banking.
Overview:
Bank of Baroda (BOB) offers its customers access to internet banking through the "Baroda Connect" service. This online service is available 24/7 and can be customised for use by corporate and retail customers. It is a global banking service that aims to make banking more convenient and stress-free.  This blog is about Bank of Baroda Net Banking
If you have any questions or need more information, you can contact Vakilsearch and their team will be happy to assist you. As a Bank of Baroda net banking user, you can also take advantage of the special online requests available, such as –
Services Offered by Bank of Baroda Netbanking
These are the services that Bank of Baroda Net Banking offers:
Fund Transfer

Tax payment

Online ticket booking

Cheque Book issuance

Bill payment

Alert on pending bills

Review & view bills online

Online Temple Donation

Mobile Alerts of Debit and Credit transactions

Open online Fixed Deposit

Services and Support centre

IPO / FPO

Balance inquiry

View transaction history

Online shopping

Hotlisting of Debit card

Debit PIN reset

Switch mailing address

Get access to SPGRS

Tracking of loan status

Direct access to e-trade

Download the pensioner life certificate

Navigate to the NPS site and contribute to NPS

Check CIBIL score

Complete FATCA Self Certification

Aadhar card Verification
How to register for Bank of Baroda Net Banking?
Both online and offline methods are available for registering for Bank of Baroda net banking:
The BOB Net Banking Registration Form (Retail Form/Corporate Form) is available to customers at any BOB branch.

Complete the application form by adding all the necessary information and signatures, then submit it to the branch.

If one has access to the User ID and Password that will be delivered via courier, they can access their online BOB account.
Customers can also sign up for BOB net banking online. The steps for registering for BOB Netbanking online are as follows:
Step 1: go to BOB's official website.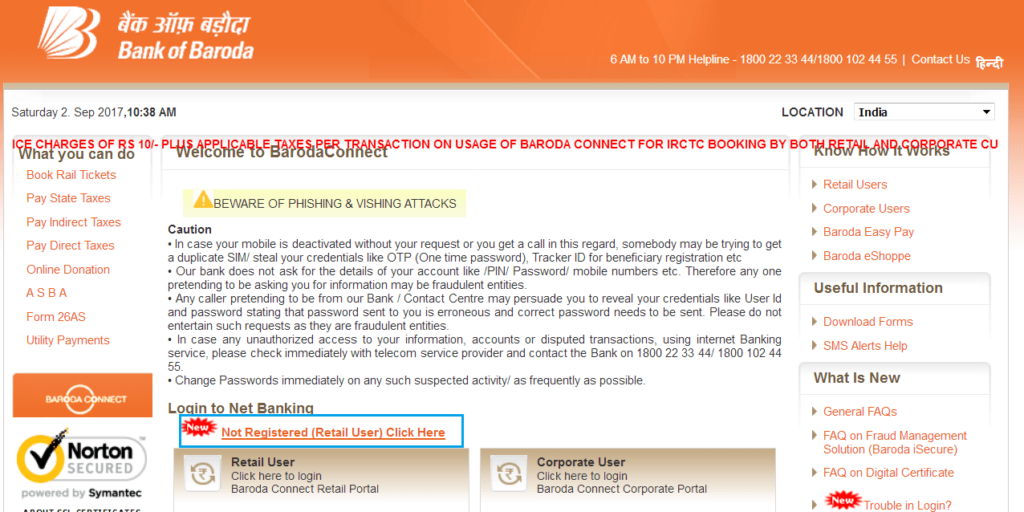 Step 2: To enable net banking for a savings account, choose "Not Registered (Retail User) Click Here."
Step 3: After entering the necessary information for validation, such as the card type, number, expiration date, and ATM PIN, click "Next."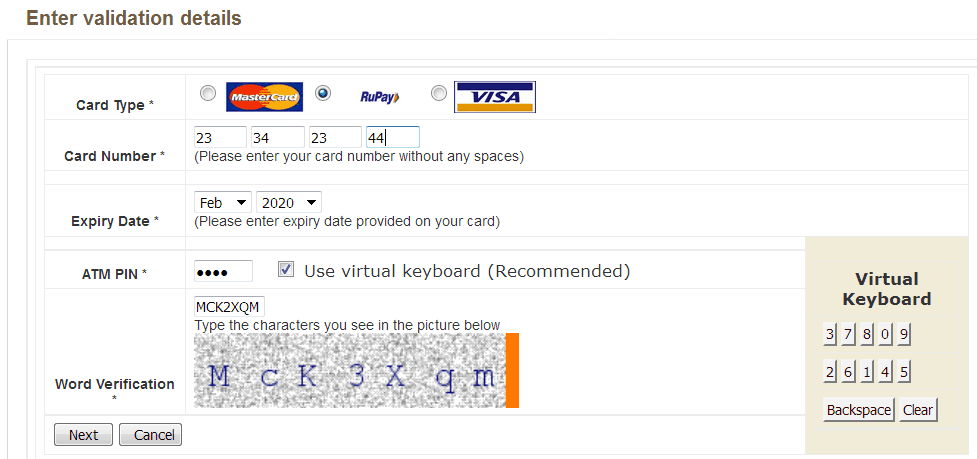 Step 4: Enter the one-time password (OTP) that was sent to the registered mobile number and press "Next."

Step 5: Complete the user's information by entering their name, address, and registered cellphone number.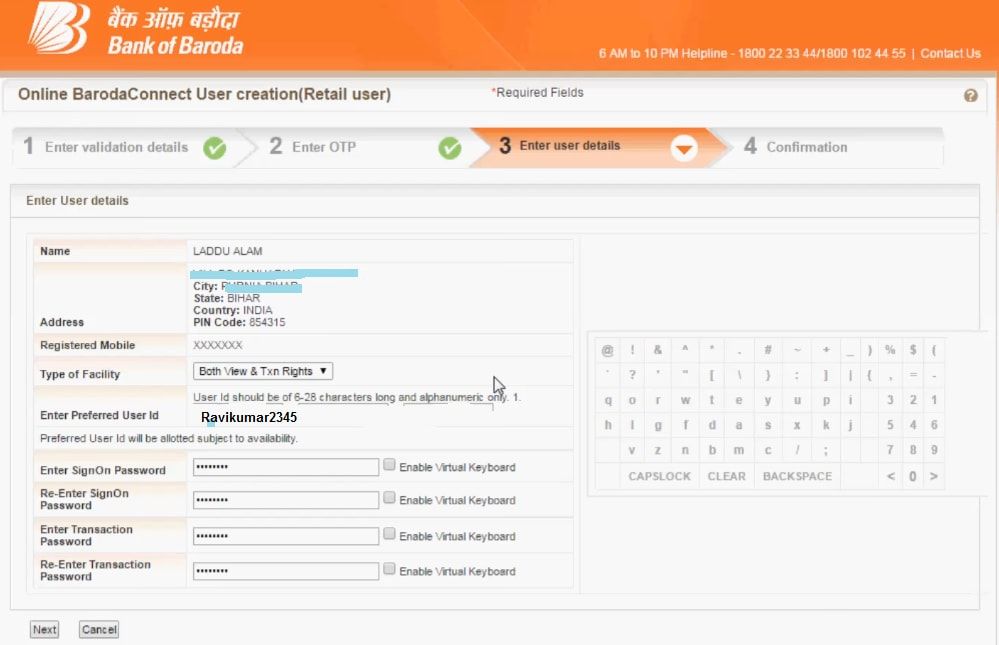 Step 6: The customer can select "see rights only" under the Type of Facility option if all they wish to do is examine the account information rather than make a financial transfer.
Step 7: If a customer wishes to view account information and make a money transfer at the same time, they can select "Both view & Txn Rights."
Step 8: When a customer selects "Both view & Txn Rights," they must enter their user ID, sign-up password, and transaction password before moving on to the next step by clicking "next."
Step 9: The user ID and a confirmation text will both show.
Step 10: Select "close window" and log in once more by going to the official BOB website and selecting "Retail User."
Step 11: Log in using the password you previously set for the user.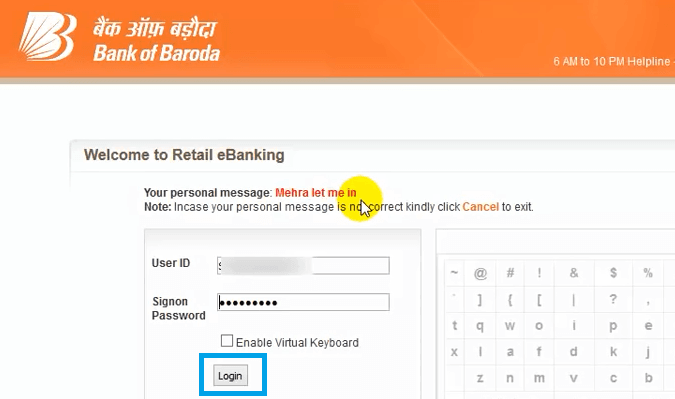 Contact BOB Customer Care if you need any additional help registering for Bank of Baroda Net Banking or if you have any other questions. Customers must create two different passwords for Bank of Baroda Net Banking: 
The Sign Password for Bank of Baroda Net Banking Login and the Transaction Password for initiating or concluding a transaction through BOB Internet Banking.
How to Regenerate BOB Transaction Password Using a Debit Card?
By requesting the creation of a new password application in person at the bank branch, the customer can regenerate their transaction password. A new password will be sent to the customer's provided address once this form is approved. Customers can also follow these instructions to regenerate their transaction password online:
Step 1: Go to the BOB official website and select "Retail user."
Step 2: Input the user ID and select "Reset your transaction password using Debit Card, Click Here" from the menu.
Step 3: After entering the necessary information for validation, such as the card type, number, expiration date, and ATM PIN, click "Next."
Step 4: Enter the one-time password (OTP) that was sent to the registered mobile number and press "Next."
Step 5: The customer would be prompted to set the transaction password after providing the OTP.
Step 6: The following notice will show up after the process has been completed. The customer can then log in following that.
Features of Bank of Baroda Net Banking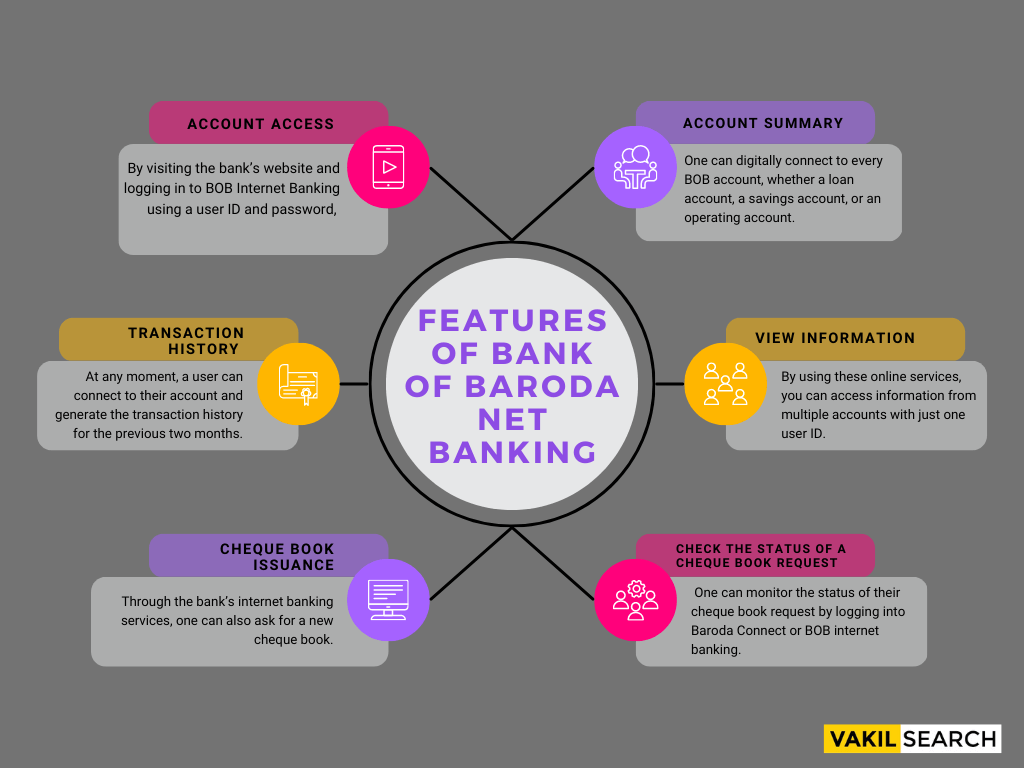 Account Access

— By visiting the bank's website and logging in to Bank of Baroda Net Banking using a user ID and password, one can instantly access their bank account using internet banking. Viewing the balance of a savings account and an account statement is possible after successfully logging in.

Transaction History

– At any moment, a user can connect to their account and generate the transaction history for the previous two months.

Cheque Book Issuance

– Through the bank's internet banking services, one can also ask for a new cheque book.

Check the Status of a Cheque Book Request

– One can monitor the status of their cheque book request by logging into Baroda Connect or BOB internet banking.

View Information from Multiple Accounts

– By using these online services, you can access information from multiple accounts with just one user ID.

Account Summary for Loan, Operating, and Deposit Accounts

-One can digitally connect to every BOB account, whether a loan account, a savings account, or an operating account.
How to Open a BOB Savings Account Online?
Open a savings account online by going to the bank's website.

Complete the opening form for a BOB Savings Account.

After receiving the properly completed application, the bank processes the request to open a new savings account.

The new account will be opened in the Branch after the details have been successfully verified or approved.
Conclusion
We hope that after reading this article, you have understood how Bank of Baroda net banking works. 
Did you know?
Bank of Baroda was the first Indian bank to open a branch outside the country, with the opening of a branch in Mombasa, Kenya in 1952.
Read more,