If you want to register for Net Banking of Axis Bank then this article is for you. Read on to know the details.
Overview
Axis Bank Net Banking allows customers to access their banking accounts and conduct various banking services at any time and from any location. This is especially helpful to customers who have busy schedules or who don't have easy access to physical bank branches. Banks use advanced encryption and authentication technology to protect sensitive customer data and transactions. This has made Online Banking a popular option, especially among the educated masses. This article is about Axis Bank Net Banking.
Did You Know?

Axis Bank offers you to earn attractive cashbacks and discounts on use of credit cards, debit cards, and internet banking.
Axis Bank, India's third-largest private sector bank, provides a wide variety of financial services to customers including big and mid-sized corporations, MSMEs, agribusiness, and retail enterprises, in addition to individuals. Customers can access banking services via Internet banking, mobile banking, phone banking, and doorstep banking. Here are the specifics of how Axis Bank Net Banking works.
What Services Do Axis Bank Net Banking Customers Have Access To?
If you want to start Axis Bank Net Banking, it is important to know what services are provided by Axis Bank. Some services provided by axis net banking are: 
View the information on your account, including the balance.

Account statement download.

Access information about your credit card, loan, and Demat accounts.

Transfer money to your account, another account at Axis Bank, or an account at a different financial institution.

Demand a checkbook and a demand draft.

PAN

and address updates.
How Can I Sign Up for Axis Bank's Online Banking?
Method 1 
First, go to the website of Axis Bank and then to the registration page on the Axis Bank Net Banking site.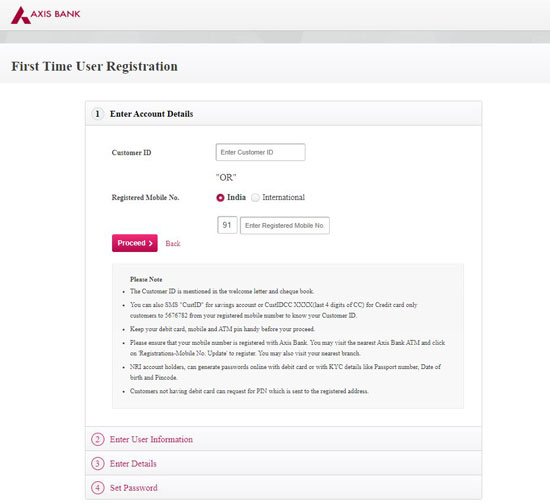 Locate your cheque book or welcome letter's 9-digit client ID. Your login ID is now your customer ID.

On the screen, enter your login ID and press the "Proceed" button.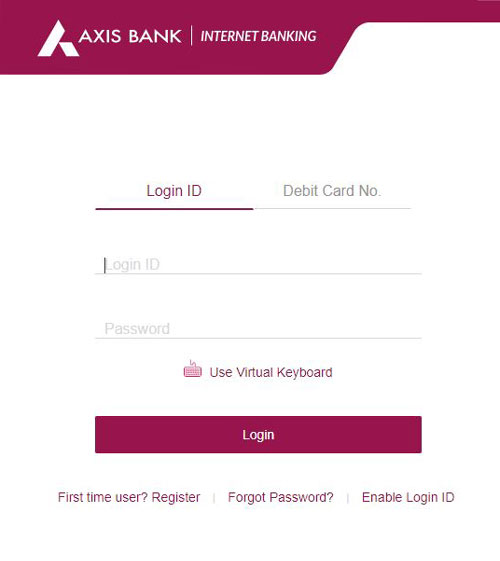 At this point, input user information and other information. To go to the fourth stage of creating a new password, click the "Proceed" button.

Type your password in the box given, then type it again to double-check. To complete the registration procedure, you must supply both the registered mobile and your 4-digit PIN.
Method 2
SMS to 5676782 with your 9-digit customer ID

.



How Can I Access Axis Bank's Online Banking?
Once you register for Axis Bank Net Banking, you can log in to your account instantly. The steps to do that are: 
Go to the website of Axis Bank to access its official online banking page.

Type your customer ID and password in the "Login ID" column.

To access your dashboard, click on the "Login" option

.
How Can I Transfer Money Using Axis Bank Net Banking?
If you've registered with Axis Bank Net Banking you can transfer funds to another account in the same bank or another bank. The steps to transfer funds are:
Enter your login ID and password to access your Axis Bank Internet Banking account.

On the "Accounts" page, select the "Transfer Funds" option.

From the menu items "My Own Axis Bank Account," "Other Axis Bank Account," and "Other Bank Account," select the method of transfer.

Decide which account you want to transfer money from and which account you want to send it to.

Before clicking the "Transfer" button, enter the amount and any comments.

Double-check the data shown and press "OK."

Log in using your login information to verify that the transaction is being handled by the authorised party.

The screen will show a success message.
How Can I Check the Amount of My Account Using Axis Bank Internet Banking?
One of the important services provided by Axis Bank Net Banking is the facility to check the amount in your account. The steps to check the Amount in your bank account are: 
Visit the Axis Bank Net Banking website and log in to your account.

All of your bank accounts will be shown on the dashboard, along with their respective account balances.

To examine the most recent transactions made through any of these accounts, click on the account itself.
How Can I Use Axis Bank's Online Banking System to Pay a Credit Card Bill?
Axis Net Banking has a facility to pay credit card bills online. This will make the process easier and faster. You can easily pay credit card bills using the following steps:
Access your account using the online banking platform.

Navigate to the dashboard's "Payments-Pay Bills" section.

Click "New Biller" to add card information if you need to pay a new card bill.

Under "Credit Card Biller," click "Pay Bill."

Enter the necessary information and the required payment amount.

Press "Proceed."

To finalise the transaction, enter the OTP that you were sent to the registered cellphone number.
How Do I Change My Password on the Axis Bank Net Banking Website?
One of the common problems that people face when they use Net banking is forgetting the password. It might be difficult to remember multiple passwords and usually, we use difficult passwords for financial purposes. These passwords might be secure but they are difficult to remember. 
If you forget your password, worry not. Here are the steps you can use to change the password:
First, go to the Axis Bank net Banking website and log in to your account.

The second step is to select the "Forgot Password?" link at the bottom of the screen.

Enter your login information and press "Proceed."

Enter the information, including your debit card, PIN, and registered mobile number, to verify that you are the account owner before moving on to the next.

Create a new password by typing it twice.

The screen will show a success message in the next step. The new password can then be used to access your account.
Conclusion 
Axis Bank Net Banking provides customers with a better understanding of their finances and allows customers to conduct transactions and access their accounts in real time. This means that customers can transfer money, pay bills, and check balances instantly. Axis Bank Net Banking can save users money because it eliminates the need to visit a physical bank branch. Plus, customers often have access to free online banking services, such as balance inquiries, fund transfers, and bill payments.
Other Net Banking Support
Helpful Links